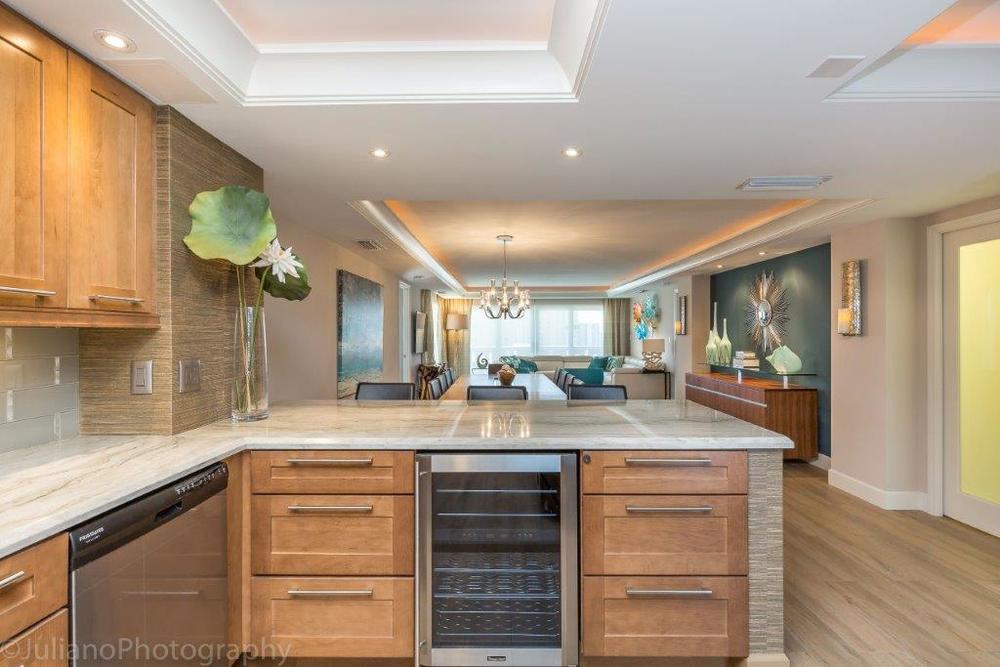 Frequently Asked Questions
1. How far in advance should I place my order? What is your lead time?
From the time of the template to the Installation, it can be from one to two weeks. Please schedule Template and Installation dates as far in advance as possible to insure we meet your deadline (3-4 weeks in advance is recommended).
2. Do I have to be on site for the appointments?
Since our work is completely custom, it is important for someone in charge to be on site to answer any questions our technician may have at the time of the templating and installation. This will ensure you get exactly what you want and expect from us.
You will also be asked to Inspect the final installation upon completion, if you have any questions or concerns about the appearance or installation of your new counter tops, you will be able address them directly to the installer at that time. After you are completely satisfied, you will be asked to sign a satisfaction form.
3. What do I need to have ready prior to the Template?
All Cabinetry needs to be complete at the time of the template. All new appliances need to be on site at the time of the template. Your sink (If not being purchased through us) needs to be on site at the time of the template. Your Faucet or any other water fixture accessory (If not being purchased through us) needs to be on site at the time of the template so we can know where to drill the holes accordingly.
4. Can I select the part of the slab I would like?
If you would like to see where and how your counter tops will be cut, you are welcome to come in no later than 1 – 2 days after the template so we can show you and get your approval. We will not call to remind you; neither do you need an appointment to do this. Keep in mind this is not necessary for materials with little to no variation.
5. How Long will the Installation take?
Depending on the size of the project and the extent of what needs to be done, Installation duration time will vary. There are large projects we can complete very quickly, while we may hit a bump in the road on a smaller project extended the time we are at the customers house. Of course, every job is different and it is impossible for us to predict what we may encounter in a days work. For smaller projects, we say to account for half a days work, while larger projects will usually be a complete day or several days depending on the scope of the work.
6. Can I schedule the plumber on the same day of the installation?
Please schedule any plumbing 1 day after the counter top installation. Counter tops need time to set over night.
7. What is your appointment policy?
Appointments are scheduled with 2 hour arrival time window. Please keep your phone on you on the day of the Template and Installation as we will be calling the number provided to us at least 30 minutes prior to our arrival. If we do not receive an answer, we will not send our worker(s) until we have reached you and confirmed you are on site.
8. Is there a Warranty?
We insure all our work will be installed neatly and professionally. We insure our fabricators and installers will do everything possible to delivery a work of quality. We do not insure against natural imperfections such as minor pits and/or any chips or stains that may occur after our installation due to faulty handeling.