Granite Countertop Repair Coral Gables
Granite countertops are highly sought after for their timeless beauty and durability. With its diverse range of colors, patterns, and textures, granite is a versatile material that can elevate any space, whether it be a kitchen, bathroom, or business establishment. Not only does it add a touch of luxury, but it is also built to withstand daily wear and tear.
At Marble Granite Connection in Coral Gables, Florida, we are dedicated to helping our clients maintain their granite countertops. With over 20 years of experience, our team is well-equipped to handle any repair, restoration, or polishing needs. Our goal is to protect our client's investment and ensure their granite countertops remain beautiful and functional for years to come.
In addition to repair services, we also offer a wide range of installation services for new granite countertops. Our team of experts will work with you to select the perfect granite for your space, whether it be for a kitchen renovation or a new construction project. We use only the finest materials and equipment to ensure a flawless installation that will leave your space looking modern and beautiful. With our range of edge profiles, sink cutouts, and customizations, we'll help you create the perfect granite countertops for your unique space. Let us bring your vision to life with granite countertop repair in Coral Gables.
Marble Granite Connection Knows Granite Countertop Repair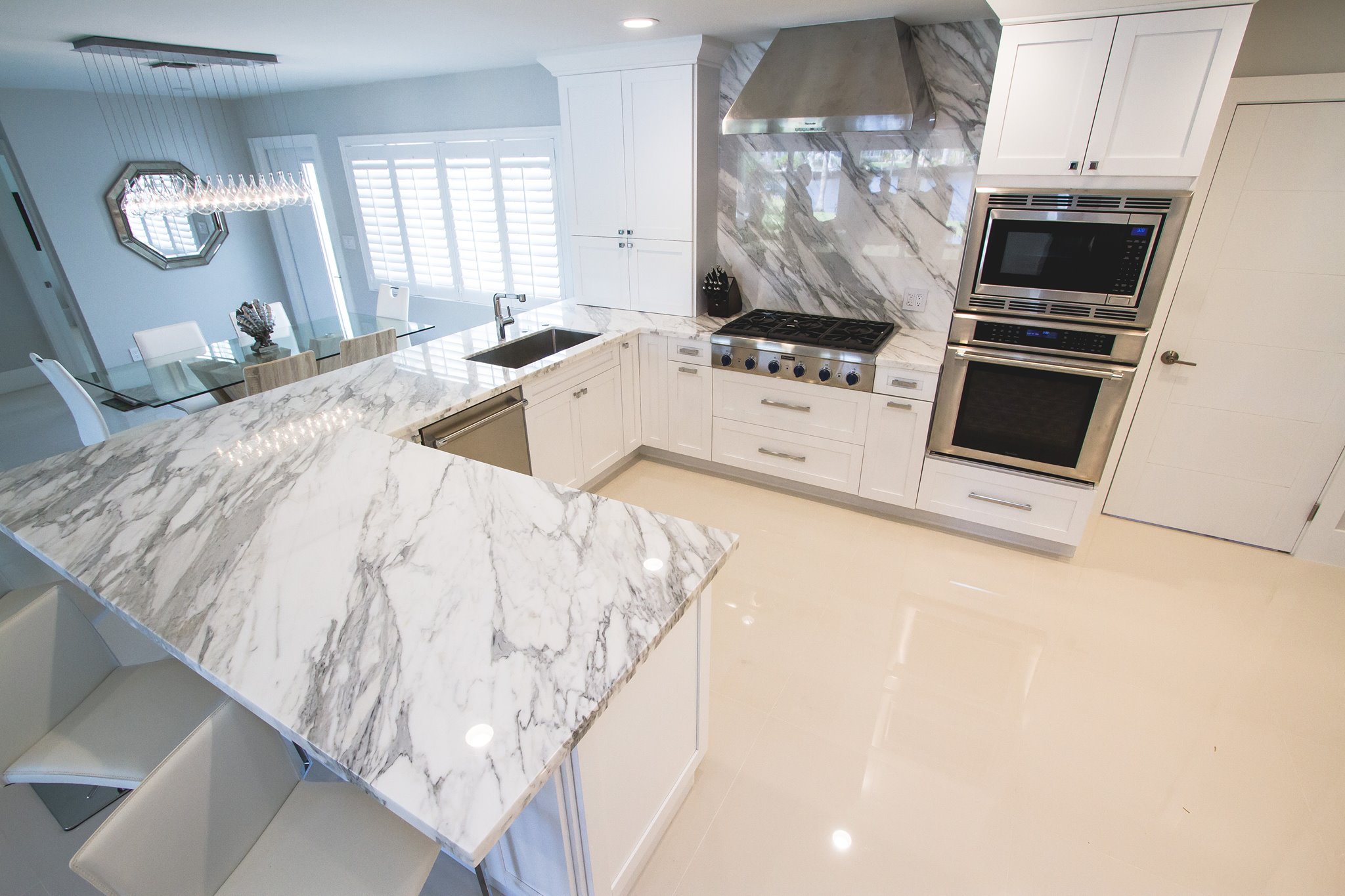 If you've noticed that your granite countertops are starting to look worn and damaged, you might be tempted to try to fix them on your own to save some money. However, fixing granite countertops is not as simple as it seems and requires specialized knowledge, tools, and patience. Trying to repair them without the right skills and equipment could cause even more damage to your countertops and even result in injury.
We understand the importance of having beautiful and durable countertops. That's why we offer expert granite countertop repair services in Coral Gables, Florida. Our technicians are highly skilled and equipped with the latest tools to ensure your countertops are restored to their original state. We value your investment and offer affordable prices for all our services.
Don't take the chance of causing further damage to your countertops and putting yourself at risk. Contact the professionals at MGC for all your granite countertop repair needs. Let us take care of the job and give your countertops a fresh start.
Granite Countertop Repair Advantages in Coral Gables, Florida
If you're in need of professional assistance for granite countertop repair in Coral Gables, Florida, look no further than MGC. Our skilled team of experts has a proven record of delivering exceptional services to homeowners in South Florida, renowned for their ability to enhance the value of homes through top-notch results. By choosing MGC for your granite repair needs, you can expect numerous benefits, including:
Elevated Property Value

: Trusting MGC with the repair and restoration of your granite countertops can greatly enhance the value of your property. In today's competitive South Florida real estate market, buyers seek homes with attractive features like granite countertops. By choosing MGC for your granite countertop repair, you'll improve the overall appearance of your home and increase its value, making it even more appealing to potential buyers.

Unsurpassed Workmanship

: At Marble Granite Connection, we take immense pride in delivering outstanding work for granite countertop repair in Coral Gables. Although it may seem like a straightforward task, fixing and restoring granite countertops requires a high level of expertise and precision. Natural stone like granite requires specific tools and techniques to ensure a comprehensive and effective repair, preserving their original beauty and strength. Rest assured that we'll bring your granite countertops back to their optimal condition, providing you with a durable and beautiful feature in your home.

Money-Saving Solution

: Choosing MGC for granite countertop repair in Coral Gables can save you money in the long run. While it may seem tempting to hire a cheaper or less experienced repair company to save money, the reality is that cheap repairs often end up costing more. Poorly repaired granite countertops can be unattractive and may even have structural issues, leading to additional repairs or replacement. By choosing MGC, you can trust that your granite countertops will be repaired and restored correctly, maintaining their appearance and longevity, and ultimately saving you money in the long run.
Common Granite Countertop Damages
At MGC, we know that even the strongest materials like granite countertops can experience wear and tear over time. That's why we offer comprehensive repair services to address any issues that may arise. Whether it's scratches, chips, stains, or holes, our team of experts has the expertise and equipment to return your countertops to their original condition.
Granite Countertop Hole Repair in Coral Gables

: One of the most common problems we encounter is hole repair. Chips and holes in granite countertops can go unnoticed, but our team has the solution to repair these imperfections and bring back the beauty of your countertops.

Lippage Correction:

Uneven heights in a countertop can be a result of poor installation or shifts in the floor, but our team offers correction services to fix faulty installations and ensure proper installation of countertops.

Scratch Removal

: Scratches are a fact of life, especially in high-traffic areas like the kitchen. But, our team can remove these scratches and restore the appearance of your countertops, making them look new again.

Stain Prevention

: Granite is a porous material and can become stained over time, but this can be prevented by proper sealing of the countertops upon installation. MGC offers sealing and stain removal services to protect your natural stone surfaces and keep them looking stunning for years to come.
Granite Countertop Maintenance in Coral Gables
Maintaining the beauty and elegance of your home or business in Coral Gables is crucial, and that includes keeping your granite countertops in pristine condition. The level of foot traffic in your property can impact the condition of your natural stone, and regular maintenance and restoration may be required to keep it looking its best. Even if you see minimal foot traffic, it's still recommended to schedule an annual professional service to maintain the quality of your granite countertops. In areas with high foot traffic, you may need more frequent repairs to keep the aesthetic of your space intact. By investing in professional granite countertop repair services, you can preserve the value and beauty of your natural stone for years to come.
At Marble Granite Connection, we're dedicated to providing top-quality services, including excellent customer service, product education, and guidance on choosing the right natural stone for your needs. Our Granite Countertop Repair services in Coral Gables will restore your countertops to their original beauty, giving you the confidence to show off your home or business. Get in touch with us today to schedule a repair or maintenance appointment and keep your granite countertops looking like new.