Granite Countertop Repair Delray Beach
Granite countertops can be found in kitchens, bathrooms, and patios all over the world. This incredible natural stone provides a number of different colors, finishes,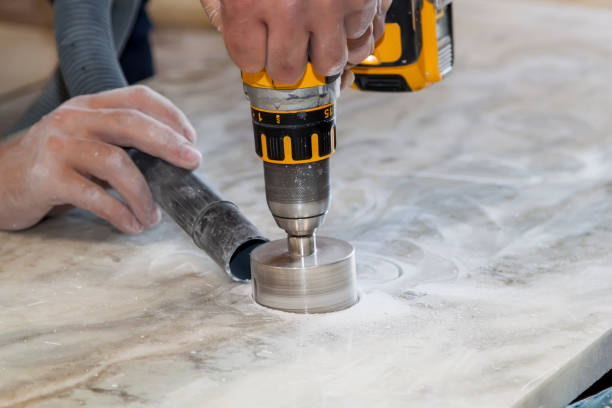 and textures that can fit in anyone's home. There's a good reason why this stone is sought after by homeowners in South Florida. No matter if it's a commercial or residential property, chances are you'll find granite somewhere. Granite is a durable natural stone, arguably the most durable natural stone countertop material out there, but it can still accrue a number of different damages over time. When your granite countertops are beginning to show damage, Marble Granite Connection can help with granite countertop repair and restoration in Delray Beach, Florida. 
Marble Granite Connection was formed in South Florida and has been in business for over 2 decades now. Since then, we've been assisting Delray Beach homeowners and business owners with making sure their countertops look elegant and presentable. We can do the same for you! Our team of granite countertop repair specialists knows exactly what needs to be done in order to complete a full granite countertop repair in Delray Beach. Granite restoration, cleaning, and polishing are all things that we provide and take great pride in. 
Marble Granite Connection Knows Granite Countertop Repair
When you first notice that your granite countertops have sustained damage, you may try to take it upon yourself to DIY the repairs. While this can seem like a good way to save time and money at first, granite countertops restoration and repair is no easy task. It requires the right training, time, and equipment in order to get it done correctly. Attempting to take this job on yourself can result in further damages and possible injury. Doing the job incorrectly can result in even more damage than what was originally there, resulting in a call to a countertop repair specialist anyway. Don't waste your time and call the experts at MGC today to handle all of your granite countertop repair needs in Delray Beach. 
Granite Countertop Repair Advantages in Delray Beach
Choosing MGC for granite countertop repair in Delray Beach means choosing a number of advantages for both you and your home. Below are some of the benefits you can expect when you have your granite countertops professionally fixed:
Increased Property Value:

With the current start of the South Florida housing market, granite countertops are highly sought after, especially when they're looking pristine. You don't want to further damage an asset as important as this by restoring it yourself. MGC can assist with granite countertop repair in Delray Beach. We'll get the job done right and bring a great increase in value to your current Delray Beach home. 

High-Quality Work:

The idea of restoring your granite countertops doesn't sound like a large task, but it's actually a professional trade that requires a certain level of craftsmanship to pull off correctly. Granite, and every natural stone, requires a certain technique to ensure it comes out looking better than ever. You don't want to hire an unprofessional or inexperienced repair company to handle your granite. Call MGC today to ensure the job gets done right.

Cheap is Expensive:

The countertops found in your kitchen, bathroom, and patio are all important assets to your home's overall value and appearance. This is reason enough to have a professional service to make sure the job is done correctly. Whether you need your granite countertops restored or replace in Delray Beach, MGC knows how to get the job done right. 
Common Granite Countertop Damages
Granite countertops may be tough, but they're still natural stones, meaning they will still accrue different damages over time. MGC can make those damages disappear. Some of the common damages we repair include:
Hole Repair:

Chips and holes can appear on your granite countertops without ever noticing. This is typical of any countertop that has been used for years. Thankfully, MGC is here to make those holes and chips disappear.

Lippage:

Liggapes will appear on your granite countertops when the height of your countertop begins to differ. This typically happens when the countertop was installed poorly or due to the floor setting. MGC can correct poor installations and install them how they were meant to be installed. 

Scratch Removal:

Scratches are enviable damages that will happen on any countertop. This is common damage that is hard to avoid, especially on countertops found in the kitchen. It will take some time before scratches become noticeable, but we're here to turn back the clock and make your countertops look new again.

Stain Removal:

Stains will appear on granite and other natural stone surfaces due to the sensitivity and porosity of the stone. Stones, such as granite, will absorb different substances, resulting in a color change on your countertops. This can be prevented by having your countertops properly sealed when they are installed. MGC can assist with sealing and stain removal in Delray Beach.
Granite Countertop Maintenance in Delray Beach
Granite countertop repair and restoration in Delray Beach are needed in order to keep their amazing appearance. This procedure is needed every few years depending on the amount of foot traffic a certain area sees. Regardless of the living environment in your residential or commercial property, an annual professional service for your natural stone can help keep it looking amazing and healthy. 
In most cases, a standard cleaning of stone surfaces will suffice. Areas that see heavy amounts of traffic, however, will start to see signs of wear at a more rapid rate. These spots will need maintenance in order to keep the same appearance as the rest of the home. 
Marble Granite Connection provides the finest services by offering incredible customer service, product education, education on what type of natural stone is best for them, and what cleaning procedure is best for each type of stone. Our natural stone repair and restoration in Delray Beach will make sure your granite countertops look as good as when you first had them installed. If you're looking for granite countertop maintenance, visit our online contact form today.