Granite Countertop Repair in Wellington
Granite is a highly sought-after natural stone that is prized for its durability and beauty. It is a popular choice for use in the construction and interior design of homes, businesses, and other buildings and can be found in a variety of colors, patterns, and textures. Granite is known for its ability to withstand wear and tear, making it a versatile and long-lasting option for use as countertops and other surfaces. 
If you live in Wellington, Florida, and are looking to add granite to your home or business, or if you already have granite countertops that are in need of repair or restoration, Marble Granite Connection is here to help. Our team of granite specialists has been providing repair and restoration services to Wellington residents for over 20 years, and we have a thorough understanding of the unique properties of granite. We offer a range of services, including restoration, cleaning, and polishing, and take great pride in helping our clients maintain the beauty and functionality of their granite surfaces. 
Marble Granite Connection understands that granite countertops are a significant investment and we want to help you protect that investment. If you are in Wellington and need assistance with your granite countertops, don't hesitate to contact us. Our experienced team is ready to help you keep your granite looking beautiful and lasting for years to come. 
Marble Granite Connection Knows Granite Countertop Repair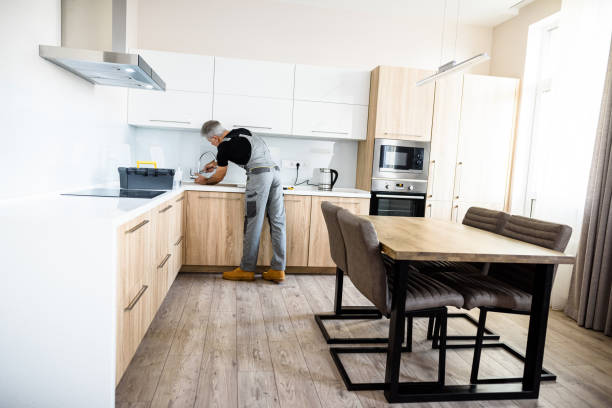 If you've noticed that your granite countertops are starting to show signs of wear and tear, you may be considering trying to fix them yourself in an effort to save money and avoid calling in a repair specialist. While this may seem like a good idea at first, the reality is that granite countertop repair is not a simple task and requires specialized training, equipment, and patience to be done correctly. If you don't have the proper knowledge or tools, you run the risk of causing further damage to your countertops and potentially even injuring yourself or anyone else involved in the repair process. 
Instead of risking your own safety and the integrity of your countertops, it's a better idea to call in the experts at Marble Granite Connection. We are a trusted provider of granite countertop repair services in Wellington, Florida, and have the skills, knowledge, and experience necessary to restore your countertops to their former beauty and durability. We use state-of-the-art techniques and equipment to ensure that your countertops are repaired correctly. We offer competitive rates for all of our services. 
Don't waste your time and effort on a DIY repair job that may end up causing more harm than good. Trust the experts at MGC to handle all of your granite countertop repair needs. 
Granite Countertop Repair Advantages in Wellington, Florida
If you're in need of granite countertop repair in Wellington, Florida, look no further than MGC. Our team of experts has a long history of providing top-notch services to homeowners in South Florida, and we're known for our ability to enhance the value of our client's homes through exceptional results. When you choose MGC for your granite repair needs, you can expect a range of benefits, including:
Increased Property Value:

Selecting MGC for granite countertop repair in Wellington can greatly enhance the value of your property. In the competitive South Florida real estate market, buyers seek out homes with attractive features like granite countertops. By entrusting MGC with the repair and restoration of your granite countertops, you can improve the overall aesthetics of your home and increase its value, making it more appealing to potential buyers. 

High-Quality Work:

At Marble Granite Connection, we pride ourselves on delivering top-notch work for granite countertop repair in Wellington. Although it may seem like a simple task, fixing and restoring granite countertops requires a high level of expertise and precision. Natural stone like granite requires specific tools and techniques to ensure a thorough and effective repair, preserving their original beauty and strength. Trust us to bring your granite countertops back to their optimal condition, giving you a durable and attractive feature in your home. 

Save Money:

Selecting MGC for granite countertop repair in Wellington can save you money over time. While it may seem like a good idea to hire a cheaper or less experienced repair company in an effort to save money, the truth is that cheap repairs often end up costing more in the long run. Poorly repaired granite countertops can be visually unappealing and may even have structural issues, leading to additional repairs or even a complete replacement. By choosing MGC, you can trust your granite countertops will be repaired and restored correctly, ensuring they maintain their appearance and longevity. 
Common Granite Countertop Damages
Although granite countertops are known for their durability, they are still susceptible to damage over time. MGC has the expertise and tools to repair any common damages, such as scratches, chips, and stains, effectively making them disappear. Some of the common damages we repair include: 
Hole Repair:

Despite being unable to detect it, your granite countertops may have chips and holes that have accumulated over time. Don't worry, MGC has the solution to fix these imperfections and restore the surface to its former glory. 

Lippage:

Gaps, known as lippage, may appear on granite countertops when the height of the countertop is uneven. This can be a result of poor installation or shifts in the floor. MGC offers services to fix faulty installations and ensure proper installation of countertops.

Scratch Removal:

Countertops are susceptible to scratches, which are inevitable over time, especially in heavily used areas like the kitchen. These scratches may not be immediately noticeable, but eventually, they can make your countertops appear worn and aged. Fortunately, our team can restore the appearance of your countertops to make them look brand new again, eliminating the evidence of scratches.

Stain Removal:

Granite and other natural stone surfaces are prone to staining due to their porous nature. Substances can easily be absorbed, causing a change in color on your countertops. However, this can be avoided by ensuring your countertops are properly sealed upon installation. MGC offers sealing and stain removal services in Wellington to protect your natural stone surfaces. 
Granite Countertop Maintenance in Wellington
Maintaining the beauty of your granite countertops in Homestead is essential to keeping your home or business looking its best. Repair and restoration services may be necessary every few years, depending on the amount of foot traffic the area sees. These services are important to keeping your natural stone looking great and in good condition. Even if you live or work in a residential or commercial property with less foot traffic, it is still recommended to have an annual professional service to keep your granite countertops looking their best. However, if you have areas with heavy foot traffic, you may notice signs of wear more quickly and may need additional maintenance to maintain the appearance of the rest of your home or business. By investing in professional repair and restoration services, you can ensure that your granite countertops continue to impress and add value to your space.
Marble Granite Connection provides the finest services by offering incredible customer service, product education, education on what type of natural stone is best for them, and what cleaning procedure is best for each type of stone. Our natural stone repair and restoration in Homestead will make sure your granite countertops look as good as when you first had them installed. If you're looking for granite countertop maintenance, visit our online contact form today.