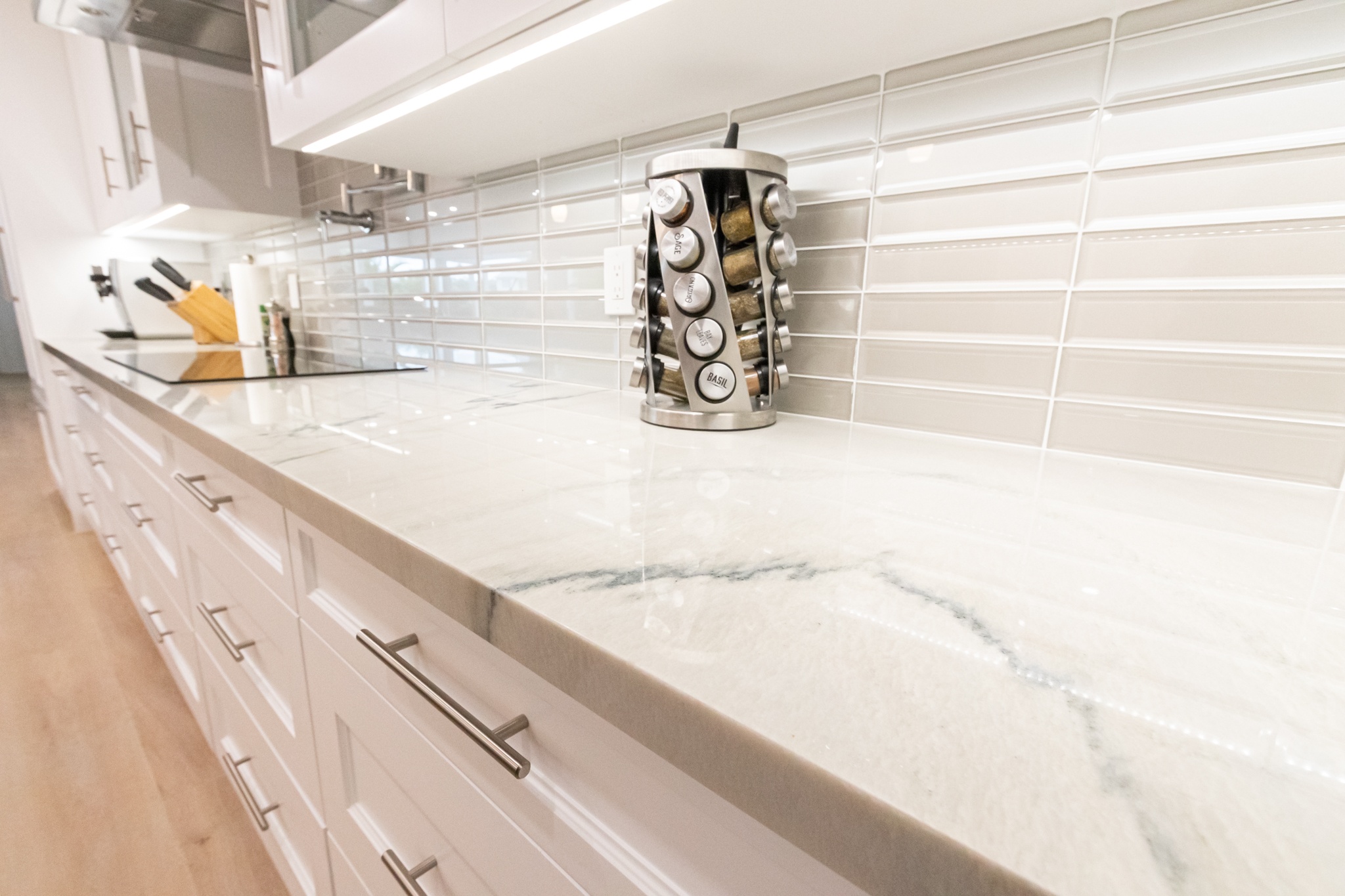 How To Maintain Your Stone Countertops
Stone countertops make a beautiful addition to any kitchen or bathroom. If you want that beauty to remain for years to come, then you have to properly clean and maintain your stone. Proper maintenance is essential to having your stone look its best and stand up to the wear and tear that comes with use. In this article, we will look at a few tips and tricks on how to properly care for and maintain your stone countertops.
Cleaning of Your Stone Countertops
It is always a great idea to clean your marble and granite countertops daily. Performing a soft clean on a daily basis will go a far way in preventing surface build-up and even more damaging stains from setting. Use warm water and a microfiber rag to clean away spills and wipe away crumbs  and waste food from your countertops daily
On a weekly basis, you should perform a more thorough cleaning. Remove all items from your counter including appliances, fruit bowls, utensils, etc. Use the granite cleaner over the entire surface to remove dust and debris that collects around appliances. doing this will serve to condition the stone as well as maintain the shine and luster over time.
Monthly Stone Countertop Cleaning
Temporary polishes can be used periodically to enhance the shine in natural stone and granite. These types of polishes are not for maintenance or repair and they are not what make the countertop shiny. Instead, it "enhances" the shine – similar to waxing a car – improves cleaning, and provides a small amount of protection.
If your granite countertop has become dull for some reason you will most likely need to consult a professional as no chemical or product will restore damage to a granite surface.
Yearly Stone Countertop Cleaning
You will likely know when it is time to reseal your granite countertops as you will start to see water around the sink darkens the stone instead of beading. This means that the moisture is absorbing and the surface requires resealing. Sealant is needed for whatever finish you have on your countertop. The most common marble finishes are either polished, for a high-gloss surface, or honed, which produces a softer matte surface.
Applying a penetrating sealant is easy. Simply clean and dry the surface and just wipe the sealant on with a soft cloth. with normal use, your sealant will generally last you a year before it needs to be reapplied. As long as you don't ill-tread your marble countertop the sealant should last you a year. Once you start to notice that water no longer beads off the surface its time to re-apply the sealant.
If you find that your stone has become stained beyond what your at-home methods can handle, then consider using the service if a professional stone restoration and cleaning company such as Marble & Granite Connection
Stone Repair and Restoration in Palm Beach County and Broward County 
We are the #1 stone repair and restoration company in Palm Beach County and Broward County. Keep your marble, granite, and quarts looking great with scheduled stone maintenance from Marble & Granite Connection. With our natural stone cleaning services in Delray Beach and Boca Raton, FL, Marble & Granite Connection can make any marble or natural stone surface in your home or business look new again. High-use areas like kitchens, shower areas, and hallways need regular care to keep their natural color and luster. Our repair and maintenance services include:
Scratches
Cracks
Gaps
Waxing
Sealing
Polishing
Honing
Color Enhancing
Maintenance
Contact us today to request a quote for our stone fabrication, installation, restoration, and stone repair Services. Do not hesitate to reach out to speak with one of our knowledgeable custom stone experts. We are confident that when you choose Marble & Granite Connection for your marble countertops, you'll be absolutely happy with our work. To get a quote contact us today at 
954-783-2118
 or click 
here
 to drop us a line.