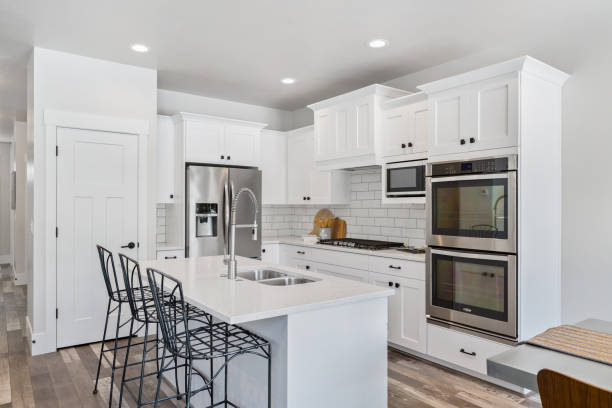 How to Style White Cabinets with Your Countertops
Being a homeowner, there are a lot of questions and design choices that you have to make in order to make your home exactly how you envisioned it. What color should the countertops be? Should they match the cabinets? Should they contrast them? If you're looking to make a home that blends together, Marble & Granite Connection recommends going with the first option. White is always a safe color to go with since it can go with any color that you choose. There are plenty of ways that your countertops can go with your white kitchen cabinets.
If you're considering a kitchen renovation, let us help you pair your white kitchen cabinets with your countertops.
Pros of a White Kitchen
If there's one thing that white kitchens do successfully, it would be that they give off the feeling of cleanness. When a white kitchen is perfectly clean, it looks like a beautiful blank canvas. The beautiful white color of your cabinets makes your kitchen feel open, clean, and airy. 
When you pair these cabinets with white countertops, the look is amplified even more than before. You may think that an all-white kitchen can be boring, but if done right, this couldn't be farther from the truth. 
Change Shades of White
White comes in a variety of different shades. Choosing a few different shades of white in your kitchen can help give a strong look without looking too sterile. Choose three or four different shades for your kitchen and see how it looks. Try going for a white that gives off more of an off-white color. 
If your kitchen still feels too empty, consider throwing in some pops of color.
Cabinet Choices
When deciding on what kitchen cabinets to get, we always recommend going with the shaker style. White shaker cabinets offer a clean and modern look that is built to last. 
Best Countertop Material
When trying to style white cabinets with your countertops, we recommend the following countertop materials.
Laminate Countertops

: These are the perfect choice for a tight budget. These countertops are bright and light and will not break the bank. Laminate is easy to care for but can scratch and scuff easily.
Granite Countertops:

These countertops can be found almost anywhere and for good reason. Granite countertops each come with their own natural appeal since no two pieces are the same. This is also a durable natural stone that will not break or scratch easily. 
White Marble:

This is seen as one of the more luxurious stones, but it is also one of the most beautiful. White marble will sign brighter and look cleaner than any other natural stone out there. Just be careful of the price tag and the increased maintenance that comes with it. 
Get Beautiful White Countertops Today
When it comes to creating a white kitchen, your options can go on forever. Mixing different shades of white as well as some pops of color will make your kitchen into something incredible. If you need help making your dream kitchen come to life, contact the MGC experts today!