Marble Countertop Repair in Coral Springs
If you live in Coral Springs, Florida, and need reliable marble countertop repair services, you've come to the right place at Marble Granite Connection. We get it – your marble countertops can experience wear and tear, accidents, or even weather-related issues. That's why we provide high-quality repair services to bring back the beauty of your countertops.
Our team of experts has extensive experience in handling various marble repair needs, including restoration and polishing. We pay close attention to detail and use only the finest materials and equipment to provide a seamless experience for marble countertop repairs. From minor scratches to major cracks or chips, we can restore the beauty and functionality of your marble countertops. Plus, we can ensure perfect color and pattern match your existing marble, creating a seamless repair.
In addition to our repair services, we provide comprehensive installation solutions for new marble countertops. Our team of experts can guide you in selecting the perfect marble for your space and customize your countertops with a variety of edge profiles, sink cutouts, and other personalized features. With our marble countertop repair and installation services in Coral Springs, you can create a stunning look for your kitchen, bathroom, or any other living space.
At Marble Granite Connection, we are dedicated to providing outstanding service to our customers. Get in touch with us today to discover more about our marble countertop repair and installation services in Coral Springs. Allow us to protect your investment in stunning countertops. We guarantee your satisfaction and offer great value for every job we take on.
Marble Granite Connection Knows Marble Countertop Repair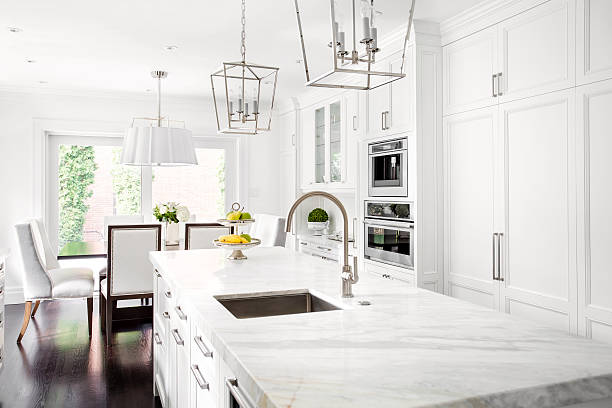 If you're facing issues with your marble countertops, entrust the task of repairs to skilled professionals who can handle it with precision. Attempting a do-it-yourself solution without the necessary expertise and tools might worsen the damage and put you at risk of accidents. At Marble Granite Connection, we specialize in top-notch marble countertop repair services in Coral Springs, Florida, employing advanced equipment and cutting-edge techniques to deliver exceptional results.
Our team of highly experienced technicians possesses the skills and knowledge to restore your countertops to their original glory. We take pride in delivering top-quality service at a competitive price point, understanding the significance of maintaining the value and aesthetic appeal of your investment. Rest assured, we go above and beyond to provide you with the utmost value for your money.
Don't take chances with the possibility of further damage to your precious countertops. Our dedicated team at Marble Granite Connection is fully equipped to handle all your marble countertop repair needs with the utmost professionalism and expertise. Leave the job in our capable hands, and give your countertops the fresh start they deserve. Get in touch with us today to discover more about our comprehensive services and to book an appointment.
Marble Countertop Repair Advantages in Coral Springs, Florida
If you're in Coral Springs and need professional assistance for marble countertop repair, look no further than Marble Granite Connection (MGC). Our experienced team of experts is known for providing top-quality services to homeowners in South Florida. We have a strong reputation for enhancing the value of homes through our exceptional results. When you choose MGC for your marble countertop repair needs, you can experience several benefits:
Enhanced Property Value: Trusting MGC with the repair and restoration of your marble countertops can significantly boost the value of your property. In today's competitive South Florida real estate market, buyers are attracted to homes with attractive features like marble countertops. By opting for MGC's marble countertop repair services, you can improve the overall appearance of your home and make it more appealing to potential buyers.

Unmatched Craftsmanship: At MGC, we take great pride in delivering outstanding workmanship for marble countertop repair in Coral Springs. Repairing and restoring marble countertops requires a high level of expertise and precision. Natural stone, like marble, demands specific tools and techniques to ensure comprehensive and effective repair, preserving their original beauty and strength. Rest assured that we'll bring your marble countertops back to their optimal condition, providing you with a durable and beautiful feature in your home.

Cost-Saving Solution: Choosing MGC for marble countertop repair in Coral Springs can save you money in the long run. While it may be tempting to hire a cheaper or less experienced repair company to cut costs, the reality is that inexpensive repairs often result in higher expenses over time. Poorly repaired marble countertops can be unattractive and may even have structural issues, requiring additional repairs or replacement. By selecting MGC, you can trust that your marble countertops will be repaired and restored correctly, maintaining their appearance and longevity, ultimately saving you money in the long term.
Common Marble Countertop Damages
At Marble Granite Connection, we understand the importance of maintaining flawless quartz countertops. If you notice chips or holes in your surfaces, our skilled team is equipped with the knowledge and tools to repair these imperfections. We know that even the smallest flaws can diminish the overall aesthetics of your countertops, which is why we are committed to delivering precise repairs that leave your surfaces looking as good as new.
Uneven heights in your countertop can be frustrating and affect both the appearance and functionality of your space. Whether it's due to poor installation or changes in your flooring, our experts are here to assist you with lippage correction. By addressing faulty installations and ensuring proper alignment, we not only enhance the visual appeal of your countertops but also promote their long-term durability.
Scratches are a common concern, especially in high-traffic areas like the kitchen. Our dedicated team at Marble Granite Connection specializes in scratch removal to revitalize the appearance of your marble countertops. With advanced techniques and state-of-the-art equipment, we skillfully eliminate scratches, ensuring seamless repairs that blend seamlessly with the surrounding surface.
While quartz is naturally resistant to staining, occasional incidents can occur. In such cases, we offer professional sealing and stain removal services to safeguard the beauty of your countertops. Our meticulous approach includes thorough sealing during installation, preventing potential staining issues and preserving the pristine look of your surfaces for years to come.
Marble Countertop Maintenance in Coral Springs
Keeping your Marble countertops in top-notch condition is vital for maintaining the appeal of your Coral Springs home or business. Regardless of the level of foot traffic in your space, regular maintenance and repairs are necessary to keep your natural stone looking its best. It's recommended to have your Marble countertops professionally serviced annually to keep them in pristine condition. If you have a busy space with high foot traffic, you may need more frequent repairs to keep your countertops looking their best. Investing in professional Marble countertop repair services can help you maintain the quality and beauty of your natural stone for years to come.
At Marble Granite Connection, we're committed to providing high-quality services that include excellent customer service, product education, and guidance on choosing the right natural stone for your needs. Our Marble countertop repair services in Coral Springs will restore your countertops to their original beauty, giving you the confidence to display your space. Contact us today to schedule a maintenance or repair appointment and keep your Marble countertops looking like new.