Marble Countertop Repair in Hialeah
At Marble Granite Connection, we take pride in being the go-to destination for marble countertop repair in Hialeah. Our team of experts possesses extensive knowledge and experience in a wide range of repair techniques. From minor touch-ups to comprehensive restorations, we employ meticulous attention to detail, utilizing the finest materials and state-of-the-art equipment. With our proficiency, we can seamlessly rejuvenate your marble countertops, erasing surface scratches, cracks, and chips. Rest assured, we have the expertise to precisely match the color and veining of your existing marble, ensuring seamless integration with the repaired areas.
Marble Granite Connection goes above and beyond mere repair services. We take pride in being a one-stop solution for all your marble countertop needs in Hialeah. Our dedicated team of experts is well-versed in the art of marble selection, helping you choose the perfect stone for your project. Whether you're looking for a sleek and modern design or a timeless and classic aesthetic, we have the knowledge and resources to bring your vision to life. From edge profiles to sink cutouts, we pay meticulous attention to detail to ensure your new marble countertops are nothing short of perfection.
We place your satisfaction above everything else. Contact us today to explore the full range of our marble countertop repair and installation services in Hialeah. We assure you that our capable hands will work tirelessly to deliver exceptional results that will leave you amazed. Marble Granite Connection is committed to providing unrivaled service and ensuring that every project we undertake surpasses your expectations, offering you unmatched value and a true sense of craftsmanship.
Marble Granite Connection Knows Marble Countertop Repair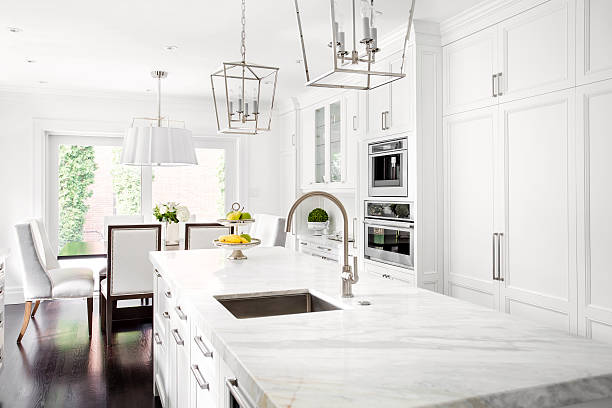 If your marble countertops in Hialeah are in need of repair, entrusting the task to skilled professionals is crucial. Attempting to fix the issue without the necessary expertise and tools can potentially worsen the problem and even pose risks of injury. This is where Marble Granite Connection comes in. As a leading provider of marble countertop repair services in Hialeah, Florida, we possess the cutting-edge equipment and specialized knowledge required to restore your countertops to their pristine condition.
Our team of highly skilled technicians is well-versed in the art of rejuvenating marble countertops. We take immense pride in delivering top-notch service that is both exceptional in quality and reasonable in price. Recognizing the significance of safeguarding your investment in these exquisite and resilient countertops, we remain committed to offering you the utmost value for your money.
Don't subject your countertops to further damage. Instead, rely on the expertise of our experienced team at Marble Granite Connection to fulfill all your marble countertop repair needs in Hialeah. With a professional and meticulous approach, we ensure that each job is executed with utmost precision and care, giving your countertops the attention they deserve. Get in touch with us now to explore our comprehensive range of services and secure an appointment that suits your convenience.
Marble Countertop Repair Advantages in Hialeah, Florida
At MGC, we understand the importance of marble countertop repair in Hialeah. Our dedicated team of experts is committed to delivering outstanding craftsmanship and exceptional customer service. By entrusting your marble countertop repair to us, you can expect the following benefits:
Enhanced Property Value: Investing in professional marble countertop repair through MGC will significantly enhance the value of your property. In today's competitive real estate market, potential buyers are drawn to homes with exquisite features like beautifully restored marble countertops. By opting for MGC's services, you'll elevate the overall appeal of your home, capturing the attention of prospective buyers and maximizing its market value in Hialeah.

Unmatched Expertise: Our team at MGC takes immense pride in their expertise in marble countertop repair. Repairing marble requires specialized skills and precision to ensure a thorough and effective restoration. With years of experience under our belt, we possess the necessary knowledge, tools, and techniques to restore your marble countertops to their original splendor. Rest assured, we'll deliver enduring and visually stunning results that will transform your kitchen or bathroom.

Long-Term Cost Efficiency: Selecting MGC for your marble countertop repair needs in Hialeah is a wise investment in terms of long-term cost savings. While cheaper alternatives may tempt you, they often fall short in terms of quality and durability. Opting for subpar repairs can lead to further damage and the need for costly replacements down the line. By relying on MGC's expertise, you'll benefit from top-notch repairs that preserve both the appearance and structural integrity of your marble countertops, ultimately saving you money in the long run.
Common Marble Countertop Damages
When it comes to marble countertop repair in Hialeah, trust Marble Granite Connection to address all your needs with expertise and precision. Our team of skilled technicians is well-versed in handling a wide range of imperfections, including scratches, chips, stains, and holes. We understand that even the smallest blemish can diminish the overall beauty of your countertops, which is why we are committed to delivering exceptional repair services that leave your marble surfaces looking as good as new.
If you've noticed uneven heights in your countertop, it may be the result of poor installation or changes in your flooring. At Marble Granite Connection, we specialize in lippage correction, ensuring that faulty installations are rectified with utmost care and attention to detail. By addressing this issue, not only will we enhance the visual appeal of your countertops, but we will also contribute to their long-lasting durability, ensuring they remain sturdy and stable for years to come.
Scratches are a common occurrence in heavily used areas like the kitchen, but there's no need to worry. Our team at Marble Granite Connection utilizes cutting-edge techniques and advanced equipment to effectively eliminate scratches and restore the impeccable appearance of your countertops. Our skilled technicians are dedicated to delivering seamless repairs that are virtually unnoticeable, leaving your marble surfaces looking flawlessly smooth and polished.
While marble countertops are naturally resistant to staining, over time, they may still become susceptible to stains. If you encounter any staining issues, our team is here to help. Marble Granite Connection offers professional sealing and stain removal services to ensure your marble surfaces retain their pristine beauty for years to come. During the installation process, we take extra care to ensure that your countertops are properly sealed, providing an additional layer of protection against potential stains in the future.
Marble Countertop Maintenance in Hialeah
Keeping your Marble countertops in top-notch condition is vital for maintaining the appeal of your Hialeah home or business. Regardless of the level of foot traffic in your space, regular maintenance and repairs are necessary to keep your natural stone looking its best. It's recommended to have your Marble countertops professionally serviced annually to keep them in pristine condition. If you have a busy space with high foot traffic, you may need more frequent repairs to keep your countertops looking their best. Investing in professional Marble countertop repair services can help you maintain the quality and beauty of your natural stone for years to come.
At Marble Granite Connection, we're committed to providing high-quality services that include excellent customer service, product education, and guidance on choosing the right natural stone for your needs. Our Marble countertop repair services in Hialeah will restore your countertops to their original beauty, giving you the confidence to display your space. Contact us today to schedule a maintenance or repair appointment and keep your Marble countertops looking like new.