Marble Countertop Repair in Wellington
If you're in Wellington, Florida, and need professional marble countertop repair services, Marble Granite Connection is the perfect choice. We fully grasp the challenges faced by marble countertops, including everyday usage, mishaps, and environmental factors. That's why our team is dedicated to providing exceptional repair services that will rejuvenate your countertops to their former glory.
Our highly skilled team of experts specializes in all aspects of marble repair, including restoration and polishing. We pay meticulous attention to detail and utilize premium materials and advanced equipment to ensure impeccable results. Whether your marble countertop has a minor scratch or a major crack or chip, we possess the expertise to restore its original beauty and functionality. Additionally, we excel in color and pattern matching, ensuring a seamless repair that seamlessly blends with your existing marble.
Marble Granite Connection not only excels in repair services but also offers an extensive selection of installation options for new marble countertops. Our experienced team is well-informed about the latest trends and can assist you in choosing the ideal marble for your space. Additionally, we provide customization options, including various edge profiles, sink cutouts, and more. With our comprehensive range of marble countertop repair and installation services in Wellington, you can effortlessly elevate the aesthetic appeal of your kitchen, bathroom, or any other living space.
We are passionately dedicated to providing unrivaled customer satisfaction. Contact us now to explore the full range of our marble countertop repair and installation services in Wellington. Our team of experts is eager to assist you in preserving the longevity and allure of your countertops. At Marble Granite Connection, our commitment is to deliver superior results that not only meet but surpass your expectations, ensuring you receive the utmost value for your investment.
Marble Granite Connection Knows Marble Countertop Repair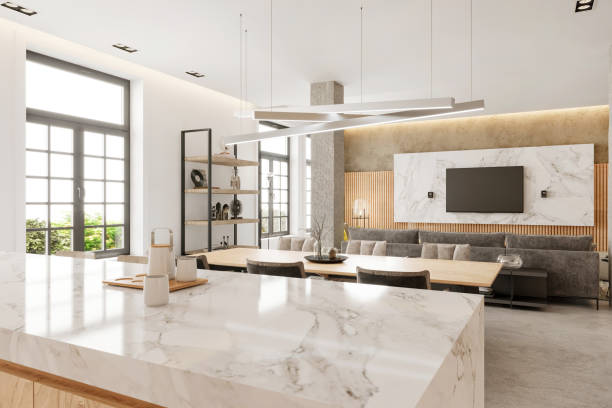 If you're dealing with any problems with your marble countertops, it's crucial to trust the experts for reliable repairs. Trying to fix it on your own without the required skills and tools can worsen the damage and even pose a danger. Don't put your countertops, and more importantly, yourself at risk of injury. Marble Granite Connection is the top destination for top-notch marble countertop repair in Wellington, Florida. We use state-of-the-art equipment and utilize advanced techniques to bring your countertops back to their pristine state.
Our team of skilled technicians excels in the craft of revitalizing marble countertops. We understand the significance of maintaining the beauty and durability of your valuable investment. Marble Granite Connection is committed to delivering top-notch service at an affordable rate. Our ultimate goal is to restore your marble countertops to their original condition, enhancing their appearance and rejuvenating their overall appeal.
Marble Countertop Repair Advantages in Wellington, Florida
If you're in Wellington and in need of professional marble countertop repair services, look no further than Marble Granite Connection (MGC). As the leading experts in South Florida, we specialize in delivering top-notch solutions to homeowners. With our extensive experience and skilled team, we are committed to providing exceptional results that will enhance the value and allure of your property. When you choose MGC for your marble countertop repair needs in Wellington, you can expect a range of benefits tailored to your specific requirements:
Enhanced Property Value: Our expertise in marble countertop repair can significantly increase the value of your home in the competitive real estate market of Wellington. The luxurious and sophisticated charm of marble surfaces attracts buyers, and with our services, we can restore the beauty and functionality of your countertops, making your home more appealing to potential buyers.

Exquisite Craftsmanship: At MGC, we take immense pride in our exquisite craftsmanship when it comes to marble countertop repair in Wellington. Our experienced technicians utilize specialized tools and techniques to bring back the original splendor of your marble countertops. With meticulous attention to detail, we deliver seamless and visually stunning outcomes that will leave you impressed.

Long-term Cost Savings: Choosing MGC for your marble countertop repair needs in Wellington is a wise investment that can save you money in the long run. While opting for cheaper alternatives may seem tempting, subpar repairs can lead to further damage and expensive replacements. With our expert team, you can have peace of mind knowing that your marble countertops will be handled with care, ensuring lasting repairs and avoiding unnecessary expenses.
Common Marble Countertop Damages
If you're looking for marble countertop repair in Wellington, look no further than Marble Granite Connection. We have a skilled team that specializes in addressing imperfections like chips and holes, ensuring that your countertops regain their original splendor. We understand that even minor flaws can detract from the overall aesthetics, so we take meticulous care in repairing these issues.
Don't let uneven countertop heights ruin the beauty of your kitchen. Our lippage correction services at Marble Granite Connection are designed to rectify faulty installations and ensure that your countertops are perfectly leveled. Our expert team will enhance the appearance of your countertops and ensure their long-lasting durability.
Scratches on your marble countertops? No problem. Our dedicated professionals at Marble Granite Connection have the expertise to effectively remove scratches and restore the overall appearance of your countertops. We use advanced techniques and cutting-edge equipment to deliver seamless repairs, leaving your countertops looking flawless and as good as new.
If your marble countertops in Wellington become stained, rest assured that Marble Granite Connection has you covered. Our comprehensive range of services includes sealing and stain removal to ensure the lasting beauty of your countertops. We take a meticulous approach, from proper sealing during installation to effective stain eradication, to ensure that your countertops remain pristine and resistant to any potential staining issues.
Marble Countertop Maintenance in Wellington
Keeping your Marble countertops in excellent condition is crucial for enhancing the allure of your Wellington residence or commercial establishment. Whether you experience heavy usage or not, regular maintenance and repairs are essential to preserve the pristine appearance of your natural stone surfaces. We strongly recommend opting for professional Marble countertop repair services on an annual basis to ensure that your countertops remain in top-notch condition. In spaces with high foot traffic and frequent use, more frequent repairs may be required to sustain the optimal aesthetic appeal of your countertops. By investing in the expertise of our professional team, you can effectively safeguard the quality and beauty of your Marble countertops for many years to come.
At Marble Granite Connection, we're committed to providing high-quality services that include excellent customer service, product education, and guidance on choosing the right natural stone for your needs. Our Marble countertop repair services in Wellington will restore your countertops to their original beauty, giving you the confidence to display your space. Contact us today to schedule a maintenance or repair appointment and keep your Marble countertops looking like new.