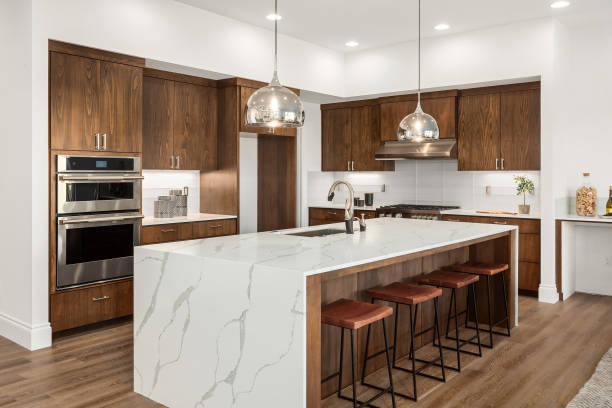 Minimize Germs with These Kitchen Countertops
It's something that every homeowner battles with; wanting a kitchen that looks amazing but isn't full of different germs and doesn't require a ton of maintenance to take care of. Is there such material out there? Well, believe it or not, there are a few countertop materials that match these exact requirements. 
Remodeling requires a lot of different decisions, especially when it comes to the kitchen. What cabinets should I get? Do I want classic or modern? How should I utilize the space? Among all these different questions is an important one. What kitchen countertops should I get? 
Kitchen countertops could be looked at as the anchor of the entire kitchen. If they don't look good, it could ruin the entire look of the kitchen. It's also one of the most used places in the entire home. Each day, they are touched, used to prepare food, and even sat on. This means it should be crucial there aren't any germs around the kitchen. Marble Granite Connection wants to recommend a few kitchen countertop materials that will minimize germs in the kitchen. 
Quartz Countertops
Quartz countertops are a great choice for people who spend lots of time in the kitchen and don't like to clean up right away. Quartz, which is a human-engineered stone, is extremely durable and requires little maintenance. It's non-porous, which means it doesn't absorb water and other liquids that would normally create breeding grounds for bacteria. You only need warm water, soap, and a rag to keep it clean. Quartz also comes in a number of different styles, matching your kitchen's aesthetic perfectly. 
Solid Surface Countertops
Solid surface is a more recent entry into countertop materials, and like quartz, it is also man-made and non-porous. These countertops are easy to clean and can be easily repaired to scratched or dented. Since they are non-porous, they won't absorb liquids which reduces the number of present germs. They are also easy to maintain only needing warm soapy water and a cloth. This material can also be used for sinks and backsplashes with no presence seems. Solid surface comes in a number of different styles and colors.
Laminate Kitchen Countertops
If you've been hunting for a countertop material that is affordable but also easy to clean, you'll probably be interested in laminate countertops. Laminate is a cost-effective material that is easy to clean. It's also stain-resistant and has antimicrobial properties that prevent the build-up of bacteria. Laminate countertops used to look cheap and flimsy, but today, it looks like any other high-end countertop material. Laminate comes in a number of different colors and patterns so it can easily fit in any kitchen setup.
There are a lot of different factors when it comes to choosing the best countertop material. Countertops see a lot of different users each day, so it's best to pick one that you know you'll love. If you need more assistance finding the best kitchen countertop material, head over to our contact page and we'll be happy to help.