Natural stone surfaces such as granite and marble have been used in homes, public buildings, and commercial buildings throughout the world for years. Its beautiful finish, luster, and color make its decorative appeal sought after by everyone. These amazing materials can be used for floors, countertops, tabletops, and other accents. While natural stone is durable, it can still take on damage over time. Marble Granite Connection can help with natural stone repair and restoration in Boca Raton. 
Marble Granite Connection has decades of experience with marble, granite, and natural stone. We have been making South Florida residents happy with our service and products for years and we know we can do the same for you. Our highly trained staff knows exactly how to take care of natural stone repair and restoration in Boca Raton. Stone restoration, cleaning, and polishing are something we have perfected and take very seriously.
Call MGC or Do it Yourself?
The world of DIY has exploded in recent years with the help of house improvement shows and new life hacks that appear on social media. We understand that the satisfaction and convenience of doing a job yourself can be satisfying. Unfortunately, a lot of these DIY attempts often end with having to call for a professional restoration company due to poor technique or faulty materials being used. Attempting to restore natural stone by yourself can often make the problem worse than in the beginning.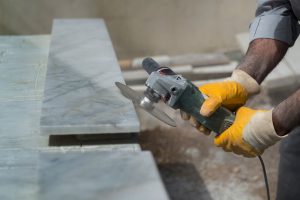 The Advantages of Natural Stone Repair and Restoration in Boca Raton
When you decide to hire MGC for natural stone repair and restoration in Boca Raton, you can expect a number of advantages over doing it yourself.
Increase the Value of Your Home –

In today's housing market, natural stone floors are highly sought after by potential buyers. You don't want to damage this asset to your home by making DIY mistakes. MGC can help with natural stone repair and restoration in Boca Raton. Make sure the job gets done right and the value of your home continues to go up.

Quality Work –

While restoring natural stone doesn't seem like a hard task, it's actually a professional trade that requires a certain level of craftsmanship to handle. Each type of stone requires a different technique to ensure it comes out looking better than ever. You don't want to hire an amateur to handle this job. Call MGC today to make sure the job gets done correctly.

Cheap is Expensive –

Your kitchen, bathroom, patio, and home is an investment. For this reason alone, you should call a professional service to help take care of this asset. Whether you're having natural stone repaired or installed, make sure it's done the right way.
Types of Natural Stone Restoration
Natural stone can experience a few types of damages and blemishes that need restoration. 
Hole Repair –

Chips and holes can appear after heavy usage of a service. MGC can make these holes and chips disappear
Lippage –

Lippage appears when the height of your natural stone begins to differ. This can occur due to poor installation or floor setting.
Scratch Removal –

Scratches will appear over time as more objects and items are moved across the surface.
Stain Removal –

Stains will appear on natural stone due to the sensitivity and porosity of marble to acidic materials. Stone will absorb these materials causing a reaction that changes the color. 
Etch Removal –

Etching occurs when marble comes into contact with acids that react with the calcium carbonate in the marble. 
Natural Stone Maintenance in Boca Raton
Natural stone repair and restoration in Boca Raton are needed in order to keep their amazing appearance. This procedure is needed every few years depending on the amount of foot traffic a certain area sees. Regardless of the living environment in your residential or commercial property, an annual professional service for your natural stone can help keep it looking amazing and healthy. 
In most cases, a standard cleaning of stone surfaces will suffice. Areas that see heavy amounts of traffic, however, will start to see signs of wear at a more rapid rate. These spots will need maintenance in order to keep the same appearance as the rest of the home. 
Marble Granite Connection provides the finest services by offering incredible customer service, product education, education on what type of natural stone is best for them, and what cleaning procedure is best for each type of stone. Our natural stone repair and restoration in Boca Raton will make sure your stone looks as good as when you first had it installed. If you're looking for natural stone maintenance, visit our online contact form today.