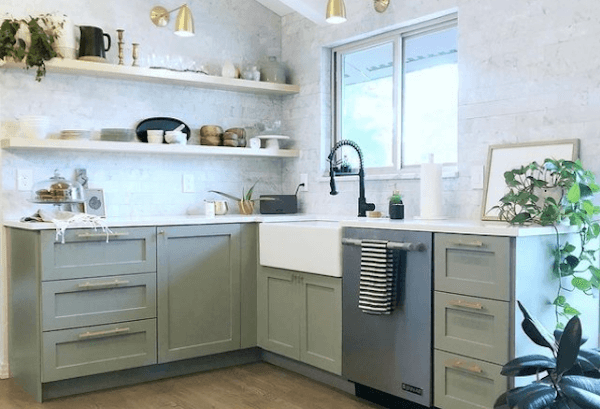 New Countertops For The Color Of The Year
Just like every other industry, things are always changing and evolving. The interior design industry is no different. New trends are constantly coming in and out. If you're interested in interior design then you probably have seen the 2022 colors of the year. These selected colors have one thing in common: the 2022 honorees are green, from Sherwin-Williams's Evergreen Fog to Benjamin Moore's October Mist. If you're a fan of these colors like we are, then you may have already started looking for new countertops that will match these beautiful colors.
What's With Green?
You'll notice that this year features a lot of green colors. Colors have the power to influence different emotions and affect your heart rate, blood pressure, and breathing. Paint brands are aware of this and have begun creating colors that are more soothing and create a serene environment that anyone would enjoy being in. 
Color of the Year: Evergreen Fog by Sherwin-Williams
This year's color of the year selected by Sherwin-Williams is called Evergreen Fog. This color is subtle but also effective at making different parts of a home feel relaxing and inviting. This organic color can be put in entryways to establish a quiet and calm environment. Consider putting it in your bedroom or bathroom or your living room to introduce invigorating energy.
Color of the Year: October Mist by Benjamin Moore
Benjamin Moore has decided to name its color of the year October Mist. This amazing color is a soft and silvery green that resembles a flower stem. The color also serves as a foundation for the brand's larger 2022 color trends palette.
New Countertops For New Colors
In the last few years, white countertops and white kitchens have dominated homes. It was the most popular color for countertops last year. This trend has made people wonder how they can make their kitchen stand out from the rest. New countertops combined with the new colors of the year can make for an amazing kitchen space. MGC has some countertops that we think pair amazingly with these incredible colors.
Silestone Calacatta Gold
This quartz countertop is already one of our most popular countertops, but we think it looks amazing paired with either Evergreen or October Mist. The blend of cream and blueish grey veins makes for an amazing pair with either of the colors to create a combination that's both unique and comfortable. The subtle gold colors add some glam to the soothing green hue. 
Not a Fan of White?
Understandably, some people won't be a fan of white since it's been one of the more popular colors for some time. We also recommend Viatera – Everest, Silestone – Desert Silver, and Silestone – Noir. All of these new countertops would make for an amazing combination. 
Looking for new Countertops?
New countertops can transform the way a home feels. Combined with the colors of the year, your home will feel like something new, unique, and comfortable. Marble Granite Connection has the new countertops you need to make it happen. Visit our contact page if you have any questions.