Quartz Countertop Repair in Homestead
When it comes to quartz countertop repair in Homestead, Florida, Marble Granite Connection is the name you can trust. We understand that your quartz countertops endure everyday usage, accidental damages, and even the effects of changing weather conditions. That's why we are dedicated to providing top-notch repair services to restore your countertops to their original beauty and functionality.
Our team of skilled experts possesses extensive experience in handling all types of quartz repair needs, ranging from restoration to polishing. We take great pride in our meticulous attention to detail, ensuring that we deliver flawless results every time. Utilizing premium materials and advanced equipment, we guarantee a seamless quartz countertop repair experience. From minor scratches to severe cracks or chips, we have the expertise to bring back the stunning appearance of your quartz countertops. We can even perfectly match the color and pattern of your existing quartz, ensuring a seamless repair that blends seamlessly with your countertops.
In addition to our exceptional repair services, Marble Granite Connection also offers a wide array of installation options for new quartz countertops. Our knowledgeable team is here to assist you in selecting the ideal quartz for your space, and we can customize your countertops with various edge profiles, sink cutouts, and other features. With our professional quartz countertop repair and installation services available in Homestead, you can transform your kitchen, bathroom, or any living area into a masterpiece.
Customer satisfaction is our utmost priority at Marble Granite Connection. We strive to deliver exceptional service in every project we undertake. Contact us today to discover more about our top-quality quartz countertop repair and installation services in Homestead, and allow us to help you safeguard your investment in your countertops. With Marble Granite Connection, you can expect nothing but satisfaction and exceptional value in every job we handle.
Marble Granite Connection Knows Quartz Countertop Repair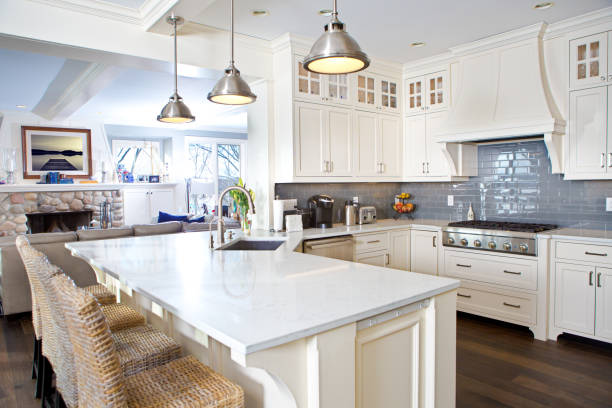 When it comes to repairing your quartz countertops in Homestead, you don't want to take any chances. Trust the expertise of professionals who can handle the job with precision and skill. At Marble Granite Connection, located in South Florida, we specialize in premium quartz countertop repair services, utilizing advanced techniques and state-of-the-art equipment to ensure flawless results.
Our team of experienced technicians understands the importance of maintaining the integrity and beauty of your countertops. We offer high-quality repairs at affordable prices, providing you with the best value for your investment. Whether you're dealing with minor chips or more extensive damage, our skilled professionals have the knowledge and expertise to restore your quartz countertops to their original condition.
Don't risk further damage or injury with a DIY fix. Leave the job to us and give your countertops the attention they deserve. Contact Marble Granite Connection today to learn more about our comprehensive quartz countertop repair services in Homestead, Florida. Our friendly and knowledgeable staff is ready to assist you, answer your questions, and schedule an appointment at your convenience. Trust us to deliver exceptional results and make your countertops look as good as new again.
Quartz Countertop Repair Advantages in Homestead, Florida
When it comes to quartz countertop repair in Homestead, Marble Granite Connection (MGC) is the name you can rely on. Our dedicated team of highly skilled experts has a strong reputation for delivering exceptional services to homeowners throughout South Florida. At MGC, we understand the importance of enhancing the value of your property, and our top-notch results can help you achieve just that. By choosing MGC for your quartz countertop repair needs, you unlock a range of benefits that will make your home stand out:
Elevate Property Value: In today's competitive real estate market in South Florida, quartz countertops have become a sought-after feature among homebuyers. Trusting MGC with the repair and restoration of your quartz countertops can significantly boost the overall value of your property. Our meticulous craftsmanship and attention to detail will ensure that your countertops regain their original beauty, making your home more appealing to potential buyers.

Unrivaled Craftsmanship: At MGC, we take immense pride in our ability to deliver outstanding workmanship when it comes to quartz countertop repair in Homestead. Repairing and restoring quartz countertops requires a high level of expertise and precision. Our team is well-versed in the specific tools and techniques needed to comprehensively and effectively repair quartz, preserving its natural beauty and strength. Rest assured that we will bring your countertops back to their optimal condition, providing you with a durable and visually stunning feature in your home.

Long-Term Cost Savings: Opting for MGC's quartz countertop repair services in Homestead can save you money in the long run. While it may be tempting to choose a cheaper or less experienced repair company to cut costs, it often leads to more expenses down the line. Inferior repairs can result in unattractive countertops and even structural issues, requiring additional repairs or replacements. By selecting MGC, you can have peace of mind knowing that your quartz countertops will be repaired and restored correctly, maintaining their appearance and longevity. This not only saves you money but also ensures that you won't have to deal with costly issues in the future.
When you choose Marble Granite Connection for your quartz countertop repair needs in Homestead, you can expect enhanced property value, unmatched craftsmanship, and long-term cost savings. Get in touch with us today to schedule a consultation and experience the difference between working with a trusted leader in countertop repair. Let us help you transform your quartz countertops into a stunning centerpiece for your home.
Common Quartz Countertop Damages
At Marble Granite Connection, we take pride in restoring the beauty of your countertops. If you notice chips or holes in your quartz surfaces, our skilled professionals have the expertise and tools to repair these imperfections. We know that even the smallest flaws can impact the overall appearance of your countertops, and we'll ensure they are fixed with precision, leaving them looking flawless once again.
Is your countertop displaying uneven heights? Unevenness can be a result of poor installation or changes in your flooring. Our team specializes in lippage correction, addressing faulty installations, and ensuring that your countertops are installed correctly. By choosing our services, you not only enhance the aesthetic appeal of your countertops but also extend their lifespan.
Scratches are an inevitable part of daily life, especially in high-traffic areas like the kitchen. However, there's no need to worry. Our experts have the knowledge and cutting-edge techniques to remove scratches and rejuvenate the appearance of your countertops. We prioritize seamless repairs, ensuring that the scratches are expertly eradicated, making your countertops look as good as new.
While quartz is highly resistant to staining, it's not completely immune. In case your countertops do become stained, we offer sealing and stain removal services to maintain their beautiful look for years to come. Our team emphasizes proper sealing during installation, preventing potential staining issues in the future and ensuring your countertops stay pristine.
Quartz Countertop Maintenance in Homestead
Keeping your quartz countertops in top-notch condition is vital for maintaining the appeal of your Homestead home or business. Regardless of the level of foot traffic in your space, regular maintenance and repairs are necessary to keep your natural stone looking its best. It's recommended to have your quartz countertops professionally serviced annually to keep them in pristine condition. If you have a busy space with high foot traffic, you may need more frequent repairs to keep your countertops looking their best. Investing in professional quartz countertop repair services can help you maintain the quality and beauty of your natural stone for years to come.
At Marble Granite Connection, we're committed to providing high-quality services that include excellent customer service, product education, and guidance on choosing the right natural stone for your needs. Our quartz countertop repair services in Homestead will restore your countertops to their original beauty, giving you the confidence to display your space. Contact us today to schedule a maintenance or repair appointment and keep your quartz countertops looking like new.