Quartz Countertop Repair in Pembroke Pines
When it comes to quartz countertop repair in Pembroke Pines, Marble Granite Connection is your go-to destination. Whether your quartz countertops have endured daily wear and tear, unexpected accidents, or even fluctuating weather conditions, our skilled professionals are here to provide top-notch repair services that will restore their original beauty.
With years of experience under our belt, we possess the expertise to handle all your quartz repair needs with precision and care. From comprehensive restoration to meticulous polishing, we leave no stone unturned in delivering exceptional results. Our commitment to excellence is evident in our meticulous attention to detail and our unwavering dedication to utilizing only the finest materials and cutting-edge equipment, ensuring a seamless quartz countertop repair experience.
No matter the extent of the damage, be it a minor scratch or a significant crack or chip, our team has the expertise to bring back the pristine appearance and functionality of your quartz countertops. Our artisans are skilled in color and pattern matching, guaranteeing a flawless repair that seamlessly blends with your existing quartz surfaces.
But our services don't stop at repairs alone. At Marble Granite Connection, we also offer a diverse range of installation services for new quartz countertops. Our knowledgeable team is well-equipped to assist you in selecting the perfect quartz that complements your space. With a variety of edge profiles, sink cutouts, and other customizable features, we ensure that your countertops are tailored to your unique preferences and needs. Whether it's a kitchen, bathroom, or any other living space, we can help you create the perfect ambiance with our exceptional quartz countertop repair and installation services in Pembroke Pines.
Customer satisfaction is at the heart of everything we do. We strive to deliver unparalleled service and craftsmanship, exceeding your expectations at every turn. Get in touch with us today to discover more about our quartz countertop repair and installation services in Pembroke Pines. Let us be your trusted partner in safeguarding your countertop investment. At Marble Granite Connection, we guarantee satisfaction and value for every project we undertake.
Marble Granite Connection Knows Quartz Countertop Repair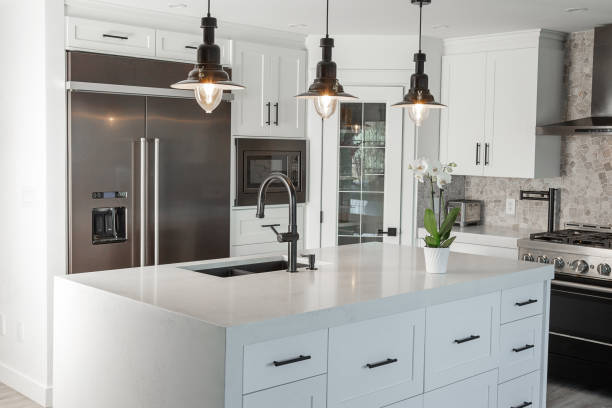 When it comes to quartz countertop repairs in Pembroke Pines, you can trust the skilled professionals at Marble Granite Connection. Attempting a do-it-yourself fix without the necessary expertise and tools can potentially worsen the problem and pose a risk of injury. With our premium quartz countertop repair services in Pembroke Pines, Florida, we ensure your countertops are in capable hands, utilizing cutting-edge equipment and advanced techniques.
At Marble Granite Connection, we take pride in our team of experienced technicians who possess the knowledge and skill to restore your countertops to their original condition. Our top priority is to provide you with high-quality service that doesn't break the bank. We understand that your quartz countertops are a valuable investment, both in terms of beauty and durability, and we are committed to delivering the best value possible.
Avoid the potential hazards of attempting repairs yourself and entrust your quartz countertop repair needs to our dedicated team at MGC. With professionalism and expertise, we are fully equipped to handle all aspects of your countertop restoration. Let us give your countertops the fresh start they deserve. Reach out to us today to discover more about our services and to schedule an appointment. Experience peace of mind knowing that your quartz countertops are in the hands of the trusted experts at Marble Granite Connection.
Quartz Countertop Repair Advantages in Pembroke Pines, Florida
With a proven track record of delivering exceptional services, we take pride in enhancing the value of homes through top-notch results. When you choose MGC for your quartz repair needs, you'll enjoy numerous benefits that will not only improve the appearance of your home but also increase its overall value.
Enhanced Property Value: In today's competitive South Florida real estate market, quartz countertops have become a highly sought-after feature among buyers. By entrusting MGC with the repair and restoration of your quartz countertops, you can significantly enhance the value of your property. Our skilled team will bring out the natural beauty of your countertops, making them more appealing to potential buyers and ensuring a higher resale value.

Unmatched Craftsmanship: At MGC, we pride ourselves on delivering outstanding workmanship for quartz countertop repair in Pembroke Pines. Our experts possess the expertise, precision, and knowledge required to fix and restore quartz countertops effectively. We understand that quartz, being a natural stone, demands specific tools and techniques to achieve a comprehensive repair that preserves its original beauty and strength. Rest assured, we'll bring your quartz countertops back to their optimal condition, providing you with a durable and aesthetically pleasing feature in your home.

Cost-Saving Solution: While it may be tempting to opt for a cheaper or less experienced repair company to save money, it often leads to more significant expenses in the long run. Poorly repaired quartz countertops can be unattractive and may develop structural issues, resulting in additional repairs or even replacement. By choosing MGC, you're making a cost-saving decision. We ensure that your quartz countertops are repaired and restored correctly, maintaining their appearance and longevity, which ultimately saves you money in the long term.
Trust Marble Granite Connection for all your quartz countertop repair needs in Pembroke Pines and experience the benefits of enhanced property value, unmatched craftsmanship, and a cost-saving solution. Contact us today to schedule a consultation with our expert team. We look forward to helping you enhance the beauty and value of your home.
Common Quartz Countertop Damages
Chips and holes in your quartz countertops can be unsightly, diminishing the overall appeal of your kitchen or bathroom. Our skilled team specializes in repairing these imperfections, utilizing advanced techniques to seamlessly restore the beauty of your countertops. At Marble Granite Connection, we take pride in our attention to detail and guarantee that your repaired countertops will look as good as new ones.
Are you tired of dealing with uneven heights on your countertops? We understand that improper installation or changes in flooring can lead to this frustrating problem. That's where our lippage correction services come in. Our team is here to correct faulty installations, ensuring your countertops are flawlessly leveled and aesthetically pleasing. With our expertise, not only will the appearance of your countertops improve, but their longevity will also be safeguarded.
Scratches are an inevitable consequence, especially in high-traffic areas like the kitchen. However, there's no need to worry because our skilled team can expertly remove scratches and breathe new life into your quartz countertops. Using cutting-edge techniques and equipment, we ensure that the repairs are seamless and virtually undetectable. You can trust us to make your countertops look flawless once again.
While quartz is highly resistant to staining due to its non-porous nature, accidents can happen. If you find yourself dealing with stains, our sealing and stain removal services are at your disposal. We take the necessary steps to properly seal your countertops during installation, reducing the risk of future staining. In the rare event that staining does occur, our team is equipped with the knowledge and tools to effectively remove the stains and preserve the beauty of your surfaces for years to come.
Quartz Countertop Maintenance in Pembroke Pines
Keeping your quartz countertops in top-notch condition is vital for maintaining the appeal of your Pembroke Pines home or business. Regardless of the level of foot traffic in your space, regular maintenance and repairs are necessary to keep your natural stone looking its best. It's recommended to have your quartz countertops professionally serviced annually to keep them in pristine condition. If you have a busy space with high foot traffic, you may need more frequent repairs to keep your countertops looking their best. Investing in professional quartz countertop repair services can help you maintain the quality and beauty of your natural stone for years to come.
At Marble Granite Connection, we're committed to providing high-quality services that include excellent customer service, product education, and guidance on choosing the right natural stone for your needs. Our quartz countertop repair services in Pembroke Pines will restore your countertops to their original beauty, giving you the confidence to display your space. Contact us today to schedule a maintenance or repair appointment and keep your quartz countertops looking like new.