Granite Countertops Installation in Delray Beach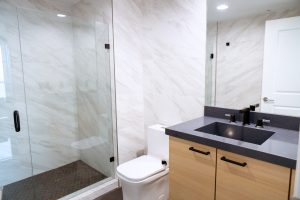 If you find yourself needing granite countertops in Delray Beach, then choose the industry experts over at MGC today. When you decide to hire us for our professional service, we can promise you'll be given the best granite countertop installation in Delray Beach. More so, you won't be able to find a service like ours that's offered at our low rates. At MGC, we allow clients to consult with our team of industry professionals in order to ensure they're given only the most exceptional granite in Delray Beach. And if you're curious to learn more about what our services can do for you, then continue reading below.
We here at MGC possess a deep understanding of how much the look and style of your home's interior matter to you. We strive to make sure that your indoor living space appeals to your sense of aesthetics. And because of this goal, when you decide to choose us, we'll give you the best and most high-end granite countertop installation in Delray Beach.
One of the greatest assets you could own in the modern world is property, especially in South Florida. People from all over the world are constantly pinning Florida as the place to settle down at. This is why property in South Florida is always seen as a valuable asset. That is why it is so important to make sure everything in your home is clean and up-to-date. And believe us when we say that we know how frustrating it is to deal with your property's declining parts. Just like any other piece of your property, your countertop is susceptible to a vast assortment of damages. And regardless if it's chipped, has burn marks, or it's stained with residues, we can replace it with the absolute best granite countertop in Delray Beach. These countertops are guaranteed to boost the appearance and value of your home.
The Best Delray Beach Granite Fabrication
You'll be able to bring out the beauty of your property's interior when it's designed with granite in Delray Beach. And when you chose us to assist you, you'll be given only the greatest product around. We have a number of different natural stone suppliers which allows us the freedom to fabricate stones that look exactly how you envisioned. Our team of fabricators will construct your granite based on your needs. And as soon as they're finished, we can promise that your property's latest addition will complement its interior design.
The greatest thing about getting granite fabricated based on your needs is that you won't need to worry about pricing. And this is because granite isn't really isn't all too expensive. In fact, it's a very cheap stone. Numerous homeowners get granite fabricated and installed in their properties because it's very beautiful. More so, its beauty is just as high as its durability. So you can expect it to last for a long time. You'll never have to worry about your countertops being damaged ever again.
Delray Beach Granite Sealing
One of the greatest stones you can use to accessorize your home's interior is and always will be granite. And thanks to its lustrous appearance, it will help raise your property value tremendously while also helping to make a good first impression on all property visitors. Because of this, it's critical that you get your granite sealed properly.
When it's not sealed properly, your granite countertop will become vulnerable to a wide assortment of damages. And the most problematic of them all is staining. When granite is stained, it loses its beauty substantially. Staining occurs when your countertops aren't properly sealed, allowing moisture to make its way under your countertops, leaving an apparent discoloration on your new countertops. So when you decide to have your granite sealed professionally in Delray Beach or any of the surrounding areas, call MGC.
Benefits of Granite Countertops in Delray Beach
Delray Beach granite countertops provide quite a few benefits. Below are the absolute best benefits that you can get when you have your new granite countertop installed by MGC.
Property Value
Besides being a property owner, purchasing property also makes you an investor, and when your property's value is declining, its value also dwindles along with it. By making the needed home improvements, you can maintain your property's overall value. Or in an even better case, these home improvements can help raise your property value drastically.
When you choose to get a Delray Beach granite countertop installed, you'll find that you can improve your property's value significantly. Due to granite's beauty and durability, countless investors will for sure find your property to be of high value.
First Impressions
Making a good first impression is crucial when guests are over at your home. So whenever visitors are coming over, it's always important that you tidy up a bit. But often, regardless of how much cleaning you do to a certain part of your home, it never seems to improve in appearance. And this is especially true when having an unsightly countertop. So when you're dealing with an ugly countertop, pick up the phone and call the pros at MGC today for their premier Delray Beach granite countertop installation. We can promise you that once we're done with the installation, your guests will compliment you on your home's newest addition.
Stylistic Appearance
Homes are meant to provide shelter. But besides shelter, they can also be a dwelling where occupants can relax and appreciate its interior beauty. But if you've been finding that challenging to do lately because of an ugly countertop, then hire the experts at MGC today. With our Delray Beach countertops services, you'll be able to admire your property's interior beauty in no time. We completely understand how much good countertops mean to our clients. And so, we'll do everything in our power to ensure that you can enjoy your new granite countertop.
True Durability 
There's no denying that granite is one of the best-looking natural stones on the market, but there's another blaring reason why Delray Beach homeowners love granite. Granite is considered to be one of, if not the, strongest countertops materials in the world. If you or someone in your home loves to cook or bake then granite countertops are what you have been looking for. When you have granite countertops installed in your home, the fear of damaging your countertops no longer needs to be your priority, letting you focus on what matters. Granite can withstand cuts, scratches, and dents that other countertops materials would have no chance at doing. On top of this, it's also extremely heat resistant. This means putting a hot pan or pot on your countertops will no longer leave a nasty burn mark. Granite countertops are truly one of the best natural stones you can have in your home.
Contact MGC Today For Our Granite Countertops in Delray Beach
If you find that you're in need of a quality granite countertop in Delray Beach, then don't hesitate for another minute, hire the experts at MGC today. We can promise you that when you choose us for our high-end countertop installation in Delray Beach, you'll be able to admire your home's newest addition. In fact, we're confident that you'll be absolutely satisfied with our services in general. For any inquiries, you may call us at 954-783-2118 or visit our contact page.