Granite Countertops Installation in Fort Lauderdale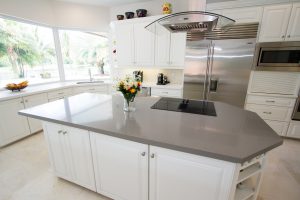 Looking for only the most high-end and best countertops in all of Fort Lauderdale? Then look no further than to the industry experts at MGC today. By hiring us for our professional service, we can provide you with the greatest countertop installation in Fort Lauderdale services that you won't be able to find anywhere else. More so, you won't be able to find services like ours offered at an affordable rate. Here at MGC, we allow clients to consult with our staff – industry professionals – to ensure they're given only the most exemplary granite in Fort Lauderdale. And if you're curious to learn more about what our services can do for you, then continue reading below.
We here at MGC understand deeply how much the style and appeal of your home's interior matter to you. Our goal is to always make sure that your indoor living space appeals to your sense of aesthetics. And because of this, when you choose to hire us, we will give you the best and most high-end granite countertop installation in Fort Lauderdale.
Property is one of the absolute most important assets you can own in the modern world. And believe us when we say that we know how frustrating it can be when dealing with its degrading parts. Much like any other piece of your property, your countertop is susceptible to a wide range of damages. And no matter if it's chipped, has burns marks, or it's just stained with residues, we can replace it with only the best granite countertop in Fort Lauderdale. South Florida is a place where people love to live. That's what makes property especially valuable compared to other places in the United States. Owning property in Fort Lauderdale is something that you can invest in and get great value out of. Making the proper investments in your home can set you apart from other homes in your area. Buyers will be less likely to be interested in homes that have granite countertops with dents, scratches, and burns. Countertops see a lot of usages, so it's no mystery why granite countertops could have this type of damage. Marble Granite Connection can give you granite countertops that make your home the king of the neighborhood.
The Best Fort Lauderdale Granite Fabrication
You can trust that a property's interior designed with granite will bring out its true beauty. And after you hire our business to assist you, you'll be given only the greatest product around. Our staff will fabricate your granite based on your needs. And after they're done, they can promise that your property's latest addition will complement its interior design.
There's no need to fret about paying too much with our Fort Lauderdale granite fabricators. While granite's beauty makes it look costly, it's actually a very cheap stone. For this reason, countless homeowners get granite fabricated and installed in their homes because it's very appealing. Also, its beauty is just as prominent as its durability. So you can expect it to last for a very long time.
Fort Lauderdale Granite Sealing
Granite is the go-to option when you want the best stone to accessorize your home's interior. And thanks to its lustrous appeal, it will help in raising your property value tremendously while also helping to make a good first impression on all property visitors. Due to this, it's critical that you get your granite sealed properly.
When not sealed properly, your granite countertop will be vulnerable to a vast array of damage. And the most troubling of them all is staining. When granite is stained, it loses its beauty significantly. So when you choose to have your granite sealed professionally in Fort Lauderdale or any of the surrounding areas, call MGC. Stains are inevitable damage that will occur quickly if your granite countertops aren't sealed correctly. Sealing your countertops will make it nearly impossible for liquids to make their way under your granite countertops. Staining is something that can completely ruin new countertops in less than a month. This is why you need the countertop experts at MGC to handle the installation of your new granite countertops in Fort Lauderdale.
Benefits of Granite Countertops in Fort Lauderdale
Fort Lauderdale granite countertops provide quite a few benefits. Below are the absolute best benefits that you can get when you have your new granite countertop installed by MGC.
Property Value
Purchasing property makes you more than just a property owner, it also makes you an investor. And when your property is dwindling in quality, it also dwindles in value as well.
You can maintain your property's overall value just by simply making improvements to certain areas of your property. Or even better, you can raise your property value drastically by making these improvements. When you just get a Fort Lauderdale granite countertop installed, you'll find that you can improve your property's value significantly. Thanks to its beauty and durability, numerous investors will find your property to be highly valuable when it's installed in your home.
First Impressions
You always want to make a good first impression when visitors come over. And to do that, you'll need to tidy up around the house. But regardless of how much cleaning you do for a certain area, it never seems to improve in appearance. And this is especially true when you're dealing with an ugly countertop. So when you're troubled with trying to tidy up and clean an ugly countertop, call MGC for Florida's premier granite countertop installation in Fort Lauderdale. We can promise you that once we're done with the installation, your guests will compliment you on your home's newest addition.
For those homeowners looking to sell their homes, the first impression is even more important for potential buyers. Making a good first impression is only possible if your home looks stunning the second someone walks into your home. New granite countertops are a fantastic way to blow away potential buyers and set yourself apart from the crowd.
Stylistic Appearance
Homes are generally a place that provides shelter. But it can also be a place to relax and appreciate your home's interior beauty. And when you're finding that difficult to do lately because of an ugly countertop, then hire the professionals at MGC. With our Fort Lauderdale countertops services, you can admire your property's interior beauty in no time. We completely understand how much a good countertop means to our clients. And so, we'll do everything in our power to ensure that you can enjoy your new granite countertop.
MGC understands how important the overall appearance of your home is to both you and everyone that lives there as well. Countertops are an important part of making sure your home looks amazing and compliments other parts of your home, especially your kitchen and bathroom. We do everything we can to find or fabricate the perfect granite countertops for your home.
Contact MGC Today For Our Granite Countertops in Fort Lauderdale
If you find that you're in need of a quality granite countertop in Fort Lauderdale, then don't hesitate for another minute, hire the experts at MGC today. We can promise you that when you choose us for our high-end countertop installation in Fort Lauderdale, you'll be able to admire your home's newest addition. In fact, we're confident that you'll be absolutely satisfied with our services in general. For any inquiries, you may call us at 954-783-2118 or visit our contact page.