Granite Countertops Installation in Lake Worth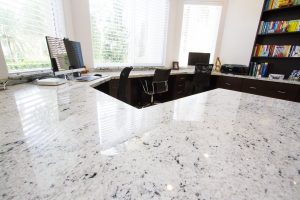 Do you find yourself needing only the greatest and most amazing granite countertops in Lake Worth? Then hire the industry professionals over at MGC today. When you choose to hire us for our expert service, we can guarantee you'll be given only the greatest granite countertop installation Lake Worth service you won't find anywhere else. Moreover, you won't be able to find a service like ours that's offered at a low rate. We here at MGC allow clients to consult with our team of industry experts in order to make sure they're provided with only the best granite in Lake Worth. And if you're curious to learn more about what our services can do for you, then continue reading below.
At MGC, we here understand just how much the look and style of your home's interior mean to you. For this reason, we aim to ensure that your indoor living space appeals to your sense of aesthetics. This is why when you decide to hire us, we'll give you the greatest and most high-end granite countertop installation in Lake Worth.
One of the best assets to own in the modern world is property. And trust us when we tell you that we understand how frustrating it can be to deal with your property's faltering parts. Just like any other piece of your property, your countertop is vulnerable to a wide assortment of damages. And no matter if it's chipped, has burn marks, or it's stained with residues, we can easily replace it with the absolute greatest granite countertop in Lake Worth. People all over the world set their eyes on South Florida as a place to settle down and spend their lives. That is why your property in Lake Worth is always sought after and is held at a high value. Having new granite countertops installed will set you apart from other homes in the area.
The Best Lake Worth Granite Fabrication
You can bring out the absolute best of your property's interior when it's designed with granite in Lake Worth. And when you decide to choose us, you'll be provided with only the greatest product around. Our team of fabricators will fabricate your granite based on your needs and purposes. And once they're finished, they can guarantee that your property's latest addition will complement its interior design.
The best thing about getting granite custom fabricated is that you won't need to worry about paying too much out-of-pocket. And this is all thanks to granite not being a costly stone product. In fact, it's one of the cheapest stones you can purchase on the market. Countless homeowners get granite fabricated and installed in their properties because it's very beautiful. Moreover, its beauty is just as high as its durability. So you can expect it to last for a long time.
Lake Worth Granite Countertop Repair
If you notice that your granite countertops have taken on some damage, you may attempt to DIY the repairs yourself. This can seem like a good idea at first since you'll be saving time and money by doing the repairs yourself. Granite repair and restoration is no easy task and requires practice and training to properly handle it. If you don't have the proper tools and experience to handle this task, you could create even more damage that needs to be repaired. It's best to call the experts and have them handle the job how it was meant to be handled. Call MGC today if you want your granite countertops to look brand new.
Lake Worth Granite Sealing
One of the best stones you can use to accessorize your home's interior with is and always will be granite. And due to its lustrous appeal, it will help raise your property value significantly while also helping to establish a lasting impression on all property visitors. Due to this, it's crucial that you get your granite sealed properly.
When not sealed properly, your granite countertop will become vulnerable to a vast assortment of damages. And the most problematic of them all is staining. When granite is stained, it will lose its beauty significantly. So when you decide to have your granite sealed professionally in Lake Worth or any of the surrounding areas, hire MGC.
Benefits of Granite Countertops in Lake Worth
Lake Worth granite countertops provide quite a few benefits. Below are the absolute best benefits that you can get when you have your new granite countertop installed by MGC.
Property Value
Purchasing property makes you more than just a property owner, it also makes you an investor. And when your property's quality is declining, its value will also dwindle along with it. But when you make the necessary home improvements, you can maintain your property's overall value. Or, even better, making the right home improvements can also help raise your property value drastically. When you choose to get a Lake Worth granite countertop installed, you'll find that you can improve your property's value tremendously. Due to granite's beauty and durability, countless investors will for sure find your property to be of high value.
Making the proper investments in your home will ensure that the value doesn't decline. Proper investments will actually increase the value of your home significantly. Installing new kitchen countertops is one of the best ways to add value to your home. The incredible durability and aesthetics of countertops will make your home that much more attractive in the future to potential buyers. Buyers will be more drawn to houses that have new countertops versus those that don't.
First Impressions
Making a lasting good impression is critical when visitors come over to your home. So whenever visitors are over, it's always important you clean up a bit. But sometimes, no matter how much cleaning you do for a certain area of your home, it never seems to improve in appearance. And this sort of scenario most definitely applies to an ugly countertop. So when you're tired of dealing with an ugly countertop, pick up the phone and call the experts at MGC today for their premier Lake Worth granite countertop installation. We can guarantee you that once we're finished with the installation, your visitors will compliment you on your home's latest addition.
The first impression is also extremely important for those looking to sell their home. A great first impression for potential buyers is one of the best ways to sell your home at a great price.
Stylistic Appearance
Homes are designed and constructed to provide shelter. But other than shelter, they can also be a place where occupants can relax and appreciate its interior beauty. But if you've been finding that difficult to do lately because of an ugly countertop, then hire the professionals at MGC today. Our Lake Worth countertops services will have you admire your property's interior beauty in no time. We know just how much a good countertop means to our clients, so, we'll do everything in our power to make sure that you can enjoy your new granite countertop.
MGC understands the aesthetics of your home are important. Countertops are a crucial part of making sure your home looks amazing. We do everything we can to find or create a stone that you love and make it the new centerpiece of your home.
Contact MGC Today For Our Granite Countertops in Lake Worth
If you find that you're in need of a quality granite countertop in Lake Worth, then don't hesitate for another minute, hire the experts at MGC today. We can promise you that when you choose us for our high-end countertop installation in Lake Worth, you'll be able to admire your home's newest addition. In fact, we're confident that you'll be absolutely satisfied with our services in general. For any inquiries, you may call us at 954-783-2118 or visit our contact page.