Granite Countertops Installation in Pompano Beach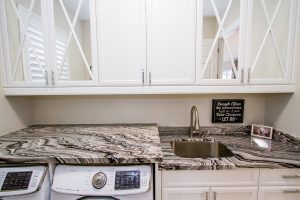 If you find yourself needing only the absolute best and most quality granite countertops in all of Pompano Beach, then pick up the phone and call the professionals at MGC today. When you hire us for our expert service, we can give you high-end granite countertop installation in Pompano Beach services that you won't find anywhere else. Also, you won't be able to find services like ours offered at an affordable rate. Here at MGC, we allow clients to consult with industry experts to ensure that they're receiving only the best granite in Pompano Beach. And if you're curious to learn more about what our services can do for you, then continue reading below.
The staff of MGC completely understands how much the appeal and style of your home's interior matter to you. We always strive to ensure that your indoor living space appeals to your sense of aesthetics. And because of this, when you decide to choose us, we will provide you with only the most quality granite countertop installation in Pompano Beach.
Your property is a very crucial asset to own. And trust us when we tell you that we know just how frustrating it can be when you're dealing with its faltering parts. Just like any other piece of your property, your countertop is vulnerable to a wide range of damage. And no matter if it has burn marks or chips, or it's stained with residues, we can replace it with only the greatest countertop in Pompano Beach. Property in South Florida is also more sought after than anywhere else in the United States. Why? Because people from all over the United States, and the world, are always looking to move here, making property values high. Making the proper investments in your home can set you apart from other properties in your area. This includes the countertops found in your home. If your granite countertops have scratches, dents, and burns, potential buyers will be much less interested in your home compared to others. That's why investing in new granite countertops can make your Pompano Beach home much more valuable.
The Best Pompano Beach Granite Fabrication
With granite installed on your property, you can never go wrong. And when you decide to choose our expert team to assist you, you will receive only the best product around. Our Pompano Beach granite fabricators will ensure that you're provided with only the best granite Pompano Beach countertop around. They will fabricate your granite to your needs in order to absolutely complement the interior design of your property.
You won't ever need to concern yourself with breaking the bank with our granite Pompano Beach fabricators. Even though granite appears to be an expensive stone, it's actually a very cheap one. And because of this, countless homeowners get granite fabricated and installed in their homes since it's very appealing. Additionally, while granite is a beautiful stone, it's also a very durable one. So you can expect it to last a long for a very long time.
Pompano Beach Granite Sealing
Granite is one of the absolute most beautiful stones that you could use to accessorize your home's interiors. And because of its lustrous appeal, it will assist in raising your property value significantly while also making a good first impression on all guests who visit. Due to this, it's important that you get your granite sealed professionally. When it's not sealed properly, your granite will become vulnerable to a vast assortment of damages. And the most problematic of them all is staining. When stained, granite loses its beauty drastically. So when you find that you need granite sealing in Pompano Beach or any of the surrounding areas, go ahead and give MGC a call.
Benefits of Granite Countertops in Pompano Beach
Pompano Beach granite countertops provide quite a few benefits. Below are the absolute best benefits that you can get when you have your new granite countertop installed by MGC.
Property Value
Purchasing property doesn't only make you a property owner, it also makes you an investor. And when your property is declining in quality, its value will dwindle alongside it.
When you decide to make improvements to certain facets of your property, you'll be able to maintain your property's value. Or even better, you may even be able to raise it drastically. And to really improve your property's value significantly, you'll find that all you need to do is get a granite countertop installed. Because of granite's beauty and strength, countless investors will find your property to be of high value when it's installed in your home.
Making impactful improvements to your home will ensure that your home's value doesn't decline. Real investments will significantly increase the value of your home. Installing new kitchen countertops is one of the best ways to add value to your home. The incredible durability and aesthetics of countertops will make your home that much more attractive in the future to potential buyers. Buyers will be more drawn to houses that have new countertops versus those that don't. 
First Impressions
Every time you have guests or visitors over, you will always want to try to make a good first impression. But sometimes, no matter how much tidying up you do for a certain area, it won't ever improve in appearance. And this is especially true when you're dealing with an old and ugly countertop. So when you find yourself troubled with making a good impression with visitors because of an unsightly countertop, call MGC for high-end granite countertop installation at Pompano Beach services. We can promise you that once we're done with our installation, your guests will compliment you on your home's newest addition.
While some people want to impress their friends and family, other homeowners who are trying to sell their homes will try to impress potential buyers instead. Making a great first impression with buyers is one of the best ways to get the best value on your home. One of the best ways to impress home buyers is with new granite countertops in your home. Whether it's the entire home or just the kitchen, new countertops will increase the value and beauty of your home while attracting Pompano Beach home buyers. It's best to put yourself in the shoes of a buyer and look at the countertops in your home. If they have dents, scratches, and other damages, it makes be time to have new granite countertops installed in your Pompano Beach home.
Stylistic Appearance
Your home shouldn't just be a place of shelter. It should also be a place where you can relax and appreciate its interior beauty. And if you've been finding that difficult to do lately due to an ugly countertop, then feel free to call the experts at MGC. With our granite countertops in Pompano Beach services, you'll be able to admire your property's interior beauty in no time. We completely understand how much a good countertop means to our clients. And so, we'll do everything in our power to ensure that you can enjoy your new granite countertop.
At MGC, we understand how important it is for your home to look good. It's the place where you and your family spend their time with each other, relaxing and bonding. That's why your home needs to be a place that everyone loves and takes pride in. It's this reason we will do everything we can to find the best granite countertops for your Pompano Beach home.
Contact MGC Today For Our Granite Countertops in Pompano Beach
If you find that you're in need of a quality granite countertop in Pompano Beach, then don't hesitate for another minute, hire the experts at MGC today. We can promise you that when you choose us for our premier granite countertop installation in Pompano Beach, you'll be able to admire your home's newest addition. In fact, we're confident that you'll be absolutely satisfied with our services in general. For any inquiries, you may call us at 954-783-2118 or visit our contact page.