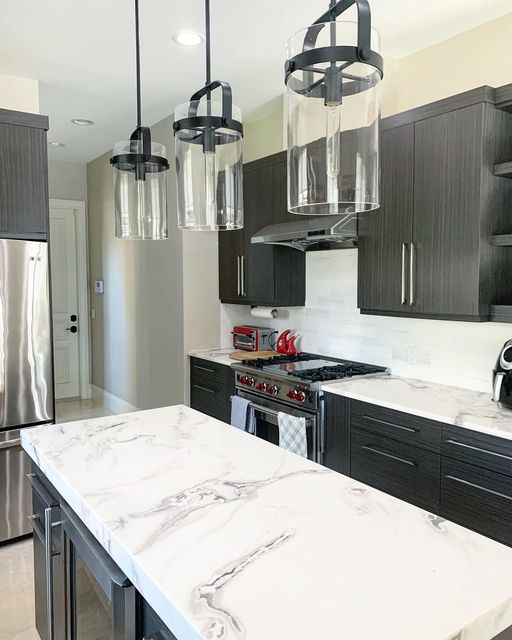 The Best Kitchen Countertop Material in 2022
The Best Kitchen Countertop Material in 2022
The world of kitchen countertop materials is one that goes deeper than one would first expect. With so many different colors, materials, and design elements, finding the right kitchen material can be a difficult task. To further add to the challenge, there are kitchen trends that come in and out of style, so you need to find the one that works best for you and your home. Each kitchen countertop material is different and comes with different upkeep demands, making them all unique. 
To help you make sense of all the different kitchen countertop materials out there, we put together a list of all the different countertop materials and what makes them stand out from the crowd. 
Marble
Marble is the classic natural stone material that has been used in kitchens, restaurants, and workspaces for centuries. Its natural beauty is something that can't be replicated but the laundry list of upkeep demands is something that homeowners have to be wary of. Many homeowners will accept these demands due to how amazing of a material it is. Marble is always an incredible choice that goes amazing with other elements found in the home.
Granite
Granite has been one of the most popular choices for homeowners for many years now and there's good reason for it. Granite comes in plenty of different colors and patterns, and with a more than fair price tag attached to it, it's hard to say no to granite. Not only does it look great, but it's one of the most durable kitchen countertop materials, being able to withstand heat, stains, and most cuts and scratches. 
Quartzite
Quartzite is the sweet spot for those who want the look of marble countertops but the durability of granite countertops. This kitchen countertop material is generally found in lighter colors such as white, grey, and tan, but can also be seen in light shades of red and blue. This is a natural stone, unlike quartz, and it does come with some imperfections that homeowners often enjoy as it makes them unique to their home.
Quartz
Quartz is the only man-made material on this list, but that doesn't make it any less desirable or loved. Being man-made makes quartz affordable and easy to acquire. It also comes in a number of different patterns and it will keep its amazing shine with little to no upkeep. 
Get The Kitchen Countertop Material Of Your Dreams
Marble Granite Connection wants to supply you with the kitchen countertop material of your dreams. We fabricate our own natural stones right here in South Florida. Let us make you fall in love with your kitchen all over again. Visit our contact page if you are ready to get started.