How To Tell The Difference Among Quartz, Marble, and Granite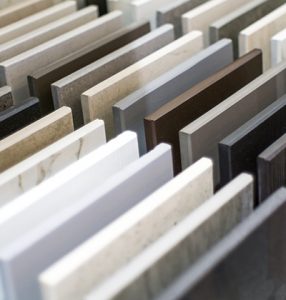 While quartz occurs naturally, a quartz countertop is human-made. To make a quartz countertop, manufacturers must use a mix of ground quartz stone (about 90 percent) and resins and polymers (about 10 percent).
Many "quartz countertops" can be a mix of ground granite, marble, other natural stones. These are more accurately called engineered stones.
Get Quartz Countertops in South Florida
Quartz countertops come in a seemingly endless variety of colors and patterns. To tell if you are looking at real stone or a manufactured countertop, look carefully at the pattern on the counter. Every slab of granite or marble is unique; if it is a natural stone, no two areas of the stone will look exactly alike. Because quartz slabs are manufactured, they tend to have a fairly uniform color and consistency throughout with little variation in the patterns and textures. However, as new methods of engineering quartz slabs emerge, the possibilities of what can be done with the material are expanding all the time, making it difficult to pin down.
Get Marble Countertops in South Florida
Marble is one of the most elegant natural stones in the world. It has been used for centuries to construct palaces fit for kings and statues dedicated to gods.
If marble stone is free from all impurities, it will be solid white. Most marble, however, contains other minerals and can be bluish, gray, pink, yellow, or black. The colors won't be stark, though. Any other bright and vibrant colors likely indicate that it's human-made or that it is a natural stone mixed with other materials.
True marble will also have an unparalleled glossiness. This is often replicated in synthetic stones by adding small bits of glass and other materials, but it does not carry the same lasting shine of marble.
The colors of the countertops will appear as veins or swirls throughout the stone, and since the countertop is natural, it won't have repeating or symmetrical patterns.
The reason marble is so popular with artists and architects alike is that it is relatively soft and easy to cut and carve. The most reliable way to tell if you are looking at real marble is to test its hardness by cutting with something sharp like a knife. A real marble top will show scratches and etching over time. If you scratch a knife on a marble top (do this on the underside of the slab!) and don't see the damage, the surface is likely granite or manufactured stone.
Get Granite Countertops in South Florida
Granite is referred to as a phanerite rock. This means it contains crystals and mineral clumps that are large enough to distinguish with naked eyes. When you look at a granite slab, you will see various pieces in a speckled pattern that come together to form the stone.
Some granite has more of a veined look, similar to marble, but if you look closely, the color patches tend to have a more grainy, blurry look rather than distinct streaks. Unlike marble, granite is completely opaque, so you will only see the outermost layer of the surface.
Again, testing it's hardness by cutting it with a knife is another way to determine whether you are looking at granite or marble. However, telling the difference between granite and quartz takes a bit more of a keen eye since neither will scratch.
Get Custom Marble, Granite, or Quartz Repair in Florida
Over time your stone may get damaged or tarnished. Have no fear, the stone repair pros are here. We are the #1 stone repair and restoration company in Palm Beach County and Broward County. Keep your marble, granite, and quarts looking great with scheduled stone maintenance from Marble & Granite Connection. We are the most trusted marble, granite, and quartz restoration company in South Florida and will work within your budget. Check out our gallery and contact the stone experts at Marble & Granite Connection at 954-783-2118 or visit our contact page.